2019 | OriginalPaper | Hoofdstuk
2. Wat is metabolisme?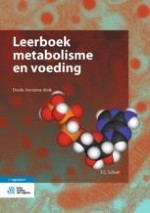 eerste hoofdstuk lezen
Auteur: Prof. dr. F.C. Schuit
Uitgeverij: Bohn Stafleu van Loghum
Samenvatting
Hoofdstuk 2 geeft een overzicht van metabolisme. Anatomisch is het een netwerk van paden, zoals het stratenplan van een stad, waarlangs het verkeer van moleculen (metabolieten) naar alle gewenste bestemmingen gaat. We onderscheiden
katabolisme
(de afbraak en verbranding van biomoleculen) van
anabolisme
(de opbouw van biomoleculen uit bouwstenen). Functioneel is
metabole flux
belangrijk: dit is de intensiteit van het metabolietenverkeer die overeen moet stemmen met de behoeften van het lichaam. Hierbij worden drie doelstellingen bereikt: het leveren van voldoende energie (ATP), het leveren van voldoende bouwstenen en het leveren van reducerend vermogen (NADPH) voor reductieve biosynthese. Belangrijk is dat de metabole flux geregeld wordt tot het gewenste niveau. Dit gebeurt dankzij flux-controlerende enzymen waarvan het aantal of de activiteit kan veranderen door de inwerking van hormonen op de cel. In dit verband bekijken we
stofwisselingsziekten
(
inborn errors of metabolism
) die niet alleen de flux verstoren, maar ook metabolieten kunnen doen opstapelen.