13-05-2019 | Drukmetingen in de praktijk | Uitgave 2/2019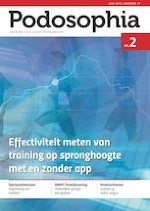 Wat is beter, een insole-drukmeting of een drukmeetplaat?
Tijdschrift:
Auteurs:

I. Yleen ten Wolde, BSc Bas Meijer
Samenvatting
Er zijn verschillende drukmeetsystemen, zoals het insole-drukmeetsysteem en de drukmeetplaat. In het artikel 'Drukmetingen in de praktijk' in de vorige
Podosophia
is te lezen wanneer welk drukmeetsysteem gekozen kan worden. Dit artikel gaat nogmaals in op beide systemen, maar dan op het interpreteren van onderzoeken waarbij een van beide systemen is ingezet voor het meten van het effect van de interventie of voor het inzichtelijk maken van de situatie voor de interventie. Deze kennis helpt om in de praktijk de goede keuze te maken voor een van beide systemen. Het artikel bevat twee casus, een bij elk drukmeetsysteem.