2009 | OriginalPaper | Hoofdstuk
3 Wat is bekkeninstabiliteit?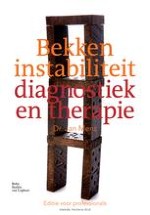 eerste hoofdstuk lezen
Auteur: Dr. Jan Mens
Uitgeverij: Bohn Stafleu van Loghum
Samenvatting
Instabiliteit van het bekken is in principe niet anders dan instabiliteit van de schouder, de knie of de enkel of welk ander gewricht ook. Het vaststellen van instabiliteit van een gewricht is doorgaans moeilijk.