01-12-2016 | Research | Uitgave 1/2016 Open Access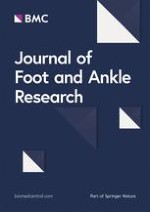 Walk for life - the National Clubfoot Project of Bangladesh: the four-year outcomes of 150 congenital clubfoot cases following Ponseti method
Tijdschrift:
Auteurs:

Angela Margaret Evans, Mohommad Mamun Hossen Chowdhury, Mohommad Humayun Kabir, Md Fashiur Rahman
Abstract
Background
Congenital clubfoot deformity can cause significant disability, and if left untreated, may further impoverish those in developing countries, like Bangladesh. The Ponseti method has been strategically introduced in Bangladesh by a non-government organisation, Walk For Life (WFL). WFL has provided free treatment for over 17,500 Bangladeshi children with clubfeet since 2009, sustained by local ownership, and international support. This study assesses the 4-year results in children for whom treatment began before the age of 3 years.
Methods
A centrally located WFL clinic at Mymensingh Medical College Hospital (MMCH), representative of the larger WFL clinics, which treats >100 cases annually, was reviewed. In 2015, 99 of the 147 eligible subjects who had begun treatment in 2011 were available for follow up. Specific assessment tools enabled evaluation of parent satisfaction, gait function, and relapse cases.
Results
Results for 99/147 cases were returned after four years: 72 males, 27 females. Typical clubfeet comprised 98/99 of cases, and 55/99 were bilateral. The tenotomy rate was 80 %. Brace use after 3 months was 90 %, at 12 months was 65 %, and at 4 years post treatment was 40 %. Functionally, 98/99 of children could walk and run (99 %). Relapsing deformity was found in 13 %. Relapse severity varied: eight were flexible and partial, five were rigid. Half of the children lost to follow were due to changed phone numbers. While parents were very happy with their child's feet (97 %), a materials cost of 3000 Taka ($US40) was deemed unaffordable by 60 %.
Conclusions
The 4-year outcomes after Ponseti treatment for clubfoot deformity, showed that 99 % of children available for follow up, were walking independently. The relapse rate was low. Parent satisfaction was high, but those whose children required further treatment were less satisfied.