01-05-2017 | Beschouwing | Uitgave 5/2017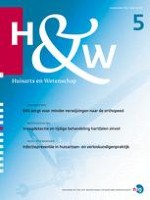 Vroegdetectie en tijdige behandeling van hartfalen zijn zinvol
Tijdschrift:
Auteurs:

Evelien van Riet, Frans Rutten
Belangrijke opmerkingen
Julius Centrum voor Gezondheidswetenschappen en Eerstelijns Geneeskunde, UMC Utrecht, Heidelberglaan 100, 3584 CX, Utrecht: dr. E.E.S. van Riet, Specialist Ouderengeneeskunde in opleiding; dr. F.H. Rutten, huisarts • Correspondentie: E.E.S.vanRiet@umcutrecht.nl • Mogelijke belangenverstrengeling: niets aangegeven.
Samenvatting
Van Riet EES, Rutten FH. Vroegdetectie en tijdige behandeling van hartfalen zijn zinvol. Huisarts Wet 2017;60(5):217-9.
Hartfalen is een belangrijk medisch probleem dat vooral bij ouderen voorkomt en leidt tot verlies van functionaliteit en kwaliteit van leven, een grote kans op sterfte en hoge kosten voor de gezondheidszorg. Hartfalen komt frequent voor, maar wordt vaak niet herkend. Zowel de huisarts als de patiënt zelf verklaart kortademigheid en verminderde inspanningstolerantie dikwijls door 'deconditionering' of aandoeningen zoals COPD. In dit artikel zoeken wij een antwoord op de vraag of vroegdetectie en tijdige behandeling van hartfalen bij ouderen met kortademigheid zinvol en haalbaar zijn. Wij concluderen dat dit zo is, mits er aan een aantal voorwaarden wordt voldaan. Huisartsen zullen aandacht moeten hebben voor het implementeren van diagnostische en farmacologische kennis over hartfalen in de dagelijkse praktijk. Goede samenwerking tussen huisartsenpraktijk en hartfalenpolikliniek is belangrijk voor een geïntegreerde eerste- en tweedelijnshartfalenzorg.