04-06-2015 | Original Article | Uitgave 6/2015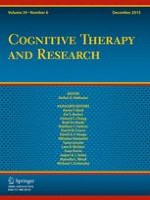 Visual Attention to Threat-Related Faces and Delusion-Proneness: An Eye Tracking Study Using Dynamic Stimuli
Tijdschrift:
Auteurs:

Tobias E. Hillmann, Jürgen Kempkensteffen, Tania M. Lincoln
Abstract
Visual attention to threat-related facial expressions possibly contributes to delusion formation and maintenance and may serve as a vulnerability marker. The aim of the present study was to examine visual attention to threat-related facial expressions using dynamic stimuli in people with differing levels of delusion-proneness. We expected that threat-relevant facial expressions would attract more foveal attention compared to neutral faces. Additionally, we hypothesized that more delusion-prone individuals would show foveal avoidance and that this avoidance would occur particularly in the visual processing of threat-related faces. In a quasi-experimental design we categorized our sample by the paranoia checklist (PCL) into a high-PCL (
n
= 25) and low-PCL (
n
= 30) group. The participants' task was to view emotional facial expressions in validated film sequences while eye movements were measured. A mixed ANOVA for the number of fixations and equivalent non-parametric tests for fixation time were conducted. Both groups spent significantly more time viewing relevant features in threat-related faces compared to neutral faces. A significant main effect for group indicated fewer fixations in the high-PCL group compared to the low-PCL group for all faces. A significant Group × Affect interaction indicated that the number of fixations differed between the high-PCL group and the low-PCL group depending on whether the faces displayed neutral or threat-related expressions. The findings suggest that higher delusion-proneness is already associated with a deviant style of visually attending to facial expressions even in people who do not have a clinical diagnosis of schizophrenia. This style may thus be a vulnerability marker for psychosis.