2021 | OriginalPaper | Hoofdstuk
18. Verruca seborrhoica/ouderdomswrat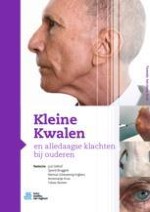 eerste hoofdstuk lezen
Auteurs: Siert Peters, Eline van der Stoep
Uitgeverij: Bohn Stafleu van Loghum
Samenvatting
Kernpunten
De verruca seborrhoica of verruca senilis (ouderdomswrat) is een benigne huidafwijking die op volwassen leeftijd optreedt.

Bijna alle ouderen hebben een of meer ouderdomswratten.

Behandeling is in de regel niet nodig, maar kan eenvoudig worden uitgevoerd met cryotherapie, curettage of diathermie.

Een recente ontwikkeling is behandeling met waterstofperoxide 40 %.