16-10-2017 | S.I. : Autism Inpatient Collection - Studying the Severely Affected | Uitgave 11/2018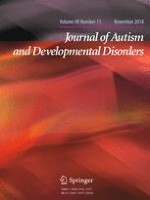 Verbal Ability and Psychiatric Symptoms in Clinically Referred Inpatient and Outpatient Youth with ASD
Tijdschrift:
Auteurs:

Matthew D. Lerner, Carla A. Mazefsky, Rebecca J. Weber, Emilie Transue, Matthew Siegel, Kenneth D. Gadow, for the Autism and Developmental Disorders Inpatient Research Collaborative (ADDIRC)
Belangrijke opmerkingen
M. Lerner and C. Mazefsky contributed equally to the development of this manuscript.
Abstract
Youth with autism spectrum disorder (ASD) experience high rates of psychiatric symptoms, but the relation between verbal ability and psychiatric symptoms is unknown. This study utilized a large sample of clinically referred inpatient and outpatient youth with ASD to compare psychiatric comorbidity between verbal and minimally-verbal youth, adjusting for nonverbal IQ, age, and ASD symptom severity. Results indicated that verbal youth were more likely to present with and meet clinical cutoffs for depression and oppositional defiant disorder symptoms, with greater impairment associated with depression. Youth in inpatient settings had greater symptom severity and impairment across almost all psychiatric comorbidities. These results present the most direct estimate to date of the association between verbal ability and psychiatric comorbidity in ASD.