05-02-2020 | Internationaal onderzoek | Uitgave 1/2020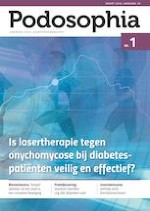 Veel wandelen met diabetes vraagt net ietsje meer zorg
Tijdschrift:
Auteur:

MSc Henk Bronts
Belangrijke opmerkingen
In deze rubriek vat de auteur een internationaal gepubliceerd onderzoek samen en geeft een beschouwing op dat onderzoek. In deze editie betreft het het artikel: Schneider KL, Crews RT, Subramanian V, Moxley E, Hwang S, DiLiberto FE, Aylward L, Bean J, Yalla S. Feasibility of a low-intensity, technology-based intervention for increasing physical activity in adults at risk for a diabetic foot ulcer: a mixed-methods study. J Diabetes Sci Technol. 2019. Vol 13(5) 857–68. (Open source)
Samenvatting
Van alle volwassenen met diabetes krijgt tussen de 19 en 34 % een diabetisch voetulcus. Een ulcus zorgt voor een verhoogd risico op amputaties, verhoogde zorgkosten en een verslechterde kwaliteit van leven. Regelmatige langzaam toenemende fysieke activiteit kan mogelijk diabetische voetulcera voorkomen. In het
Journal of Diabetes Science and Technology
stond onlangs een artikel over een haalbaarheidsstudie naar een programma dat mensen met een verhoogd risico op diabetische voetulcera aanzet tot een actievere levensstijl, met inzet van ondersteunende technologie. Een groep van 12 proefpersonen werd gevraagd om mee te doen aan een 10 weken durend programma. Hun activiteiten werden gemonitord en na afloop werd hen via een vragenlijst en een interview gevraagd hoe ze het programma hadden ervaren. De conclusie was dat het programma haalbaar lijkt, aangezien alle deelnemers op één na therapietrouw waren en enthousiast over het programma. Wel gaven de deelnemers nog een enkele aanbeveling voor verbeteringen.