01-03-2010 | Uitgave 2/2010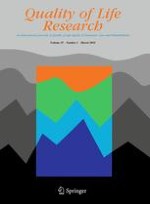 Validity of information obtained from a method for estimating cancer costs from the perspective of patients and caregivers
Tijdschrift:
Auteurs:

Sophie Lauzier, Elizabeth Maunsell, Mélanie Drolet, Douglas Coyle, Nicole Hébert-Croteau
Abstract
Purpose
We describe a method we developed for estimating cancer costs from the perspective of patients and caregivers and evidence supporting validity of estimates obtained.
Methods
To increase validity, interview questions were anchored to treatments; costs were divided into their components; most questions focused on facts; and the research team combined responses into cost estimates. Evidence for validity comes from a prospective study of breast cancer costs using this method.
Results
Estimates obtained using interview responses were similar to those from independent sources. Women reported being reimbursed $205 on average for prosthesis (government reimbursement = $200); paying $15.48 per night at cancer lodge (average rate = $17.52); receiving government illness insurance for 14.6 weeks at 53% of usual salary (governmental program covers 15 weeks at 55%). A priori hypotheses about relations of costs with other characteristics were also confirmed. For example, patients' weekly travel costs increased as a function of distance from the radiotherapy center, with patients living <25, 25–49 and ≥50 km away spending $54, $141 and $240, respectively (
P
< .0001); and the proportion of annual salary lost was 37% for self-employed workers compared to 18% for employees (
P
< .0001).
Conclusions
Evidence to date supports the validity of estimates obtained using this method.