17-04-2019 | ORIGINAL PAPER | Uitgave 9/2019 Open Access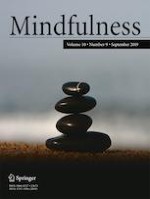 Validation of the Dutch Comprehensive Inventory of Mindfulness Experiences (CHIME) and Development of a Short Form (CHIME-SF)
Tijdschrift:
Auteurs:

Mira B. Cladder-Micus, Hanne Verweij, Hiske van Ravesteijn, Katleen Van der Gucht, Filip Raes, Anne E. M. Speckens
Belangrijke opmerkingen
Electronic supplementary material
Publisher's Note
Springer Nature remains neutral with regard to jurisdictional claims in published maps and institutional affiliations.
Abstract
Objectives
In recent years, there has been a growing interest in the assessment of mindfulness skills. The present study describes the validation of the Dutch Comprehensive Inventory of Mindfulness Experiences (CHIME) and the development of a short form.
Methods
The original scale was translated into Dutch. The psychometric properties of the CHIME were examined, including its factor structure, internal consistency, and convergent and discriminant validity in a group of 481 participants consisting of clinical and non-clinical samples. In addition, a 24-item short form (CHIME-SF) was developed and its psychometric properties were assessed in the same sample.
Results
Confirmatory factor analyses showed an acceptable model fit of an 8-factor structure of the CHIME with the following subscales: awareness of internal experiences, awareness of external experiences, acting with awareness, accepting and non-judgmental attitude, nonreactive decentering, openness to experiences, awareness of thought's relativity, and insightful understanding (
χ
2
 = 1534.90, df = 601,
χ
2
/
df = 2.55, CFI = 0.90, RMSEA = 0.057 [90% CI 0.053, 0.060], SRMR = 0.06). The CHIME-SF showed a good model fit (
χ
2
 = 486.13, df = 224,
χ
2
/df = 0.17, CFI = 0.95, RMSEA = 0.049 [90% CI 0.043, 0.055], SRMR = 0.05.) and the subscales of the CHIME and CHIME-SF showed high corrected correlations (
r
c
 = .69–.88). The CHIME and the CHIME-SF proved to be sensitive to change.
Conclusions
The results indicate that the Dutch version of the CHIME and CHIME-SF are valid instruments to assess mindfulness skills in clinical and non-clinical populations. The psychometric properties of the CHIME-SF should be further evaluated in an independent sample.