01-02-2013 | Brief Communication | Uitgave 1/2013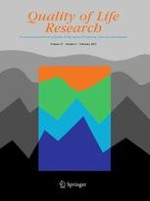 Validation of the Brazilian version of Chronic Liver Disease Questionnaire
Tijdschrift:
Auteurs:

Samantha Mucci, Vanessa de Albuquerque Citero, Adriano Miziara Gonzalez, Luciana Geocze, Stephan Geocze, Gaspar de Jesus Lopes Filho, Mario Alfredo De Marco, Edison Roberto Parise, Luiz Antonio Nogueira Martins
Abstract
Purpose
The aim of this study was to validate the Chronic Liver Disease Questionnaire (CLDQ) for use in Brazilian population.
Method
A total of 200 patients with chronic liver disease and varying disease severity answered a socio-demographic questionnaire,
t
CLDQ, and the Medical Outcome Study Short Form 36 (SF-36). Patients returned in 1–15 days to answer CLDQ again. The Cronbach's alpha of the total CLDQ score was 0.95 and fluctuated between 0.69 and 0.83 in its six domains.
Results
The intra-class correlation between total CLDQ scores in two evaluations was 0.97 and in all domains was >0.93. CLDQ was moderately correlated with the SF-36, 0.63 (total CLDQ vs. vitality, SF-36), 0.62 (CLDQ and mental health, SF-36), 0.62 (preoccupation, CLDQ, vs. General Health, SF-36), 0.59 (fatigue, CLDQ, vs. vitality, SF-36), 0.59 (activity, CLDQ, vs. vitality, SF-36), and 0.59 (fatigue, CLDQ, vs. mental health, SF-36). The highest scores were found in non-cirrhotic group. Child A patients had higher average scores than Child B and C groups in all domains, while patients with MELD <15 scored higher than patients with MELD ≥15.
Conclusion
CLDQ-BR was validated in Brazilian population and was appropriate for use in patients with liver disease of different etiologies and degrees of severity.