01-08-2011 | Uitgave 6/2011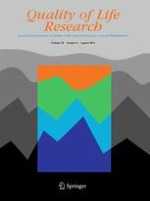 Validation of the AQLQ12+ among adolescents and adults with persistent asthma
Tijdschrift:
Auteurs:

Kathleen W. Wyrwich, Andrea M. Ireland, Prakash Navaratnam, Hendrik Nolte, Davis F. Gates Jr.
Abstract
Background
To date, there is limited psychometric evidence on the Asthma Quality of Life Questionnaire (AQLQ12 +) among populations that include adolescents and adults.
Objective
To provide evidence of the psychometric properties of the AQLQ12+ as a measure of asthma-specific quality of life (QOL) in patients with persistent asthma treated with a combination of inhaled glucocorticoid and long-acting beta2-agonist, as well as explore the predictors of at least a minimally important AQLQ12+ improvement.
Methods
The psychometric properties of the AQLQ12+ were assessed through post hoc analysis of two large (
n
= 740 and 778) Phase III, randomized, double-blinded, placebo-controlled efficacy studies of mometasone furoate/formoterol fumarate (MF/F) combination compared with monotherapy in subjects with persistent asthma previously treated with either low-dose or medium-dose inhaled glucocorticoids.
Results
With 15% and 8% participation from 12- to 17-year olds, blinded trial data demonstrated excellent reproducibility (ICC range: 0.76–0.85) and moderate-to-strong construct validity with other measures of asthma health at baseline and over time for the AQLQ12 +. A greater percentage of the MF/F treatment group (44%) achieved an important change at 26 weeks on the AQLQ12+ compared with formoterol fumarate (F, 23%) and placebo (18%) treatment groups in the low-dose study (
P
< 0.001) and the medium-dose study (50% (MF/F) versus 34% (F) and 23% (placebo);
P
< 0.001). Pre-randomization nighttime awakenings and rescue medications use were significant predictors of AQLQ12+ improvement.
Conclusions
These findings provide strong support for the measurement properties of the AQLQ12+ among patients with persistent asthma and confidence in the AQLQ12+ improvements demonstrated by the MF/F treatment group.