10-08-2018 | Original Paper | Uitgave 1/2019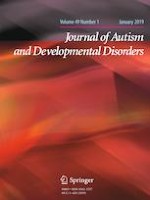 Vagal Tone as a Putative Mechanism for Pragmatic Competence: An Investigation of Carriers of the
FMR1

Premutation
Tijdschrift:
Auteurs:

Jessica Klusek, Amanda J. Fairchild, Jane E. Roberts
Abstract
Pragmatic language skills exist across a continuum in typical and clinical populations, and are impaired in many neurodevelopmental disorders, most notably autism. The mechanisms underlying pragmatic impairment are poorly understood, although theory suggests dampened vagal tone plays a role. This study investigated the
FMR1
premutation as a genetic model that may lend insight into the relationship between vagal function and pragmatic ability. Participants included 38 women with the
FMR1
premutation and 23 controls. Vagal tone accounted for significant variance in pragmatics across both groups and statistically mediated the effect of
FMR1
premutation status on pragmatic ability. Results support vagal tone as a biophysiological correlate of pragmatic ability, which informs potential mechanistic underpinnings and could have implications for targeted treatment.