01-09-2013 | Uitgave 3/2013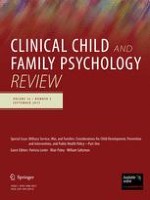 Using Multidimensional Grief Theory to Explore the Effects of Deployment, Reintegration, and Death on Military Youth and Families
Tijdschrift:
Auteurs:

Julie B. Kaplow, Christopher M. Layne, William R. Saltzman, Stephen J. Cozza, Robert S. Pynoos
Abstract
To date, the US military has made major strides in acknowledging and therapeutically addressing trauma and post-traumatic stress disorder (PTSD) in service members and their families. However, given the nature of warfare and high rates of losses sustained by both military members (e.g., deaths of fellow unit members) and military families (e.g., loss of a young parent who served in the military), as well as the ongoing threat of loss that military families face during deployment, we propose that a similar focus on
grief
is also needed to properly understand and address many of the challenges encountered by bereaved service members, spouses, and children. In this article, we describe a newly developed theory of grief (multidimensional grief theory) and apply it to the task of exploring major features of military-related experiences during the phases of
deployment
,
reintegration
, and
the aftermath of combat death
—especially as they impact children. We also describe implications for designing preventive interventions during each phase and conclude with recommended avenues for future research. Primary aims are to illustrate: (1) the indispensable role of theory in guiding efforts to describe, explain, predict, prevent, and treat maladaptive grief in military service members, children, and families; (2) the relevance of multidimensional grief theory for addressing both losses due to
physical death
as well as losses brought about by
extended physical separations
to which military children and families are exposed during and after deployment; and (3) a focus on military-related grief as a much-needed complement to an already-established focus on military-related PTSD.