Gepubliceerd in: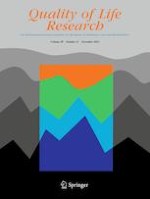 26-07-2020 | Special Section: Feedback Tools
Using implementation science to inform the integration of electronic patient-reported experience measures (ePREMs) into healthcare quality improvement: description of a theory-based application in primary care
Gepubliceerd in: Quality of Life Research | Uitgave 11/2021
Log in om toegang te krijgen
Abstract
Background
Collecting and monitoring the information from patients through patient-reported experience measures (PREMs) about the quality of care they receive is important for tracking changes in healthcare quality, stimulate innovation, and enhance person-centred care. The objective of this theoretical paper is to discuss the use of implementation science theories, models, and frameworks to inform and evaluate the integration of the electronic collection of PREMs (ePREMs) in healthcare quality improvement for primary care in Canada.
Methods
To assess potential knowledge-to-practice gaps in implementing ePREMs in primary care in Alberta, the overarching implementation model that will be used is the Knowledge to Action Cycle. An integrated knowledge translation approach will ensure ongoing engagement of key stakeholders (e.g. primary care providers, patients) throughout the study. ePREM implementation will be informed by the identification of barriers and facilitators to implementation using the Consolidated Framework for Implementation Research (CFIR). The CFIR brings an organizational perspective providing an opportunity to explore the intervention characteristics, the context of implementation, individual factors, and the processes that influence implementation of ePREMs in healthcare. Identified barriers and facilitators to ePREM implementation will be mapped to evidence-based implementation strategies and prioritized by stakeholders. The RE-AIM framework will be used to guide the evaluation of ePREM implementation outcomes after six months of implementation by assessing Reach, Effectiveness, Adoption, Implementation, and Maintenance (sustainability).
Discussion
Consultations with stakeholders affirm the importance of using integrated knowledge translation approaches and the need to better understand how to integrate ePREMs in primary care. Using an implementations science approach, this study can provide guidance for mitigating important ePREM implementation challenges and promote the successful uptake and use of ePREMs for quality improvement in healthcare.