29-11-2017 | Uitgave 2/2018 Open Access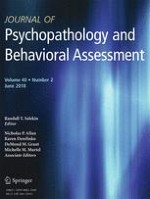 Using a Videogame Intervention to Reduce Anxiety and Externalizing Problems among Youths in Residential Care: an Initial Randomized Controlled Trial
Auteurs:

Angela A. T. Schuurmans, Karin S. Nijhof, Rutger C. M. E. Engels, Isabela Granic
Abstract
Residential care is among the most intensive forms of treatment in youth care. It serves youths with severe behavioral problems and is primarily focused on targeting externalizing problems. Despite best efforts, effect sizes remain moderate, which may be due to the disregarding of internalizing symptoms – in particular anxiety - and to limitations regarding the delivery model of interventions. This initial randomized controlled trial (
n
 = 37) aimed to examine the effectiveness of a biofeedback videogame intervention (
Dojo
) as an addition to treatment as usual for youths with and without intellectual disability (ID) in residential care with clinical levels of anxiety and externalizing problems.
Dojo
targets both anxiety and externalizing problems, and incorporates the principles of conventional treatment, while addressing its limitations. Youths were randomly assigned to play
Dojo
(eight 30-min gameplay sessions) or to treatment as usual (TAU). Measurements of anxiety and externalizing problems were conducted at baseline, posttreatment, and 4-months follow-up through youths' self-report and mentor-report. Completers-only analyses revealed decreases in self-reported anxiety and externalizing problems, and mentor-reported anxiety at posttreatment for participants in the
Dojo
condition compared to the control condition. Only mentor-reported anxiety was maintained at follow-up. No effect was found for mentor-reported externalizing problems. These findings provided preliminary evidence that
Dojo
is a promising, innovative intervention that engages high-risk youths. Practical implications are discussed.