17-05-2019 | Uitgave 9/2019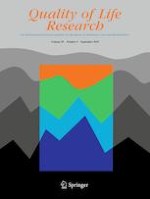 Use of an expert panel to identify domains and indicators of delirium severity
Tijdschrift:
Auteurs:

Dena Schulman-Green, Eva M. Schmitt, Tamara G. Fong, Sarinnapha M. Vasunilashorn, Jacqueline Gallagher, Edward R. Marcantonio, Charles H. Brown IV, Diane Clark, Joseph H. Flaherty, Anne Gleason, Sharon Gordon, Ann M. Kolanowski, Karin J. Neufeld, Margaret O'Connor, Margaret A. Pisani, Thomas N. Robinson, Joe Verghese, Heidi L. Wald, Richard N. Jones, Sharon K. Inouye, BASIL Study Group
Belangrijke opmerkingen
Richard N. Jones and Sharon K. Inouye are co-senior authors.
Publisher's Note
Springer Nature remains neutral with regard to jurisdictional claims in published maps and institutional affiliations.
Abstract
Purpose
Our purpose was to create a content domain framework for delirium severity to inform item development for a new instrument to measure delirium severity.
Methods
We used an established, multi-stage instrument development process during which expert panelists discussed best approaches to measure delirium severity and identified related content domains. We conducted this work as part of the Better ASsessment of ILlness (BASIL) study, a prospective, observational study aimed at developing and testing measures of delirium severity. Our interdisciplinary expert panel consisted of twelve national delirium experts and four expert members of the core research group. Over a one-month period, experts participated in two rounds of review.
Results
Experts recommended that the construct of delirium severity should reflect both the phenomena and the impact of delirium to create an accurate, patient-centered instrument useful to interdisciplinary clinicians and family caregivers. Final content domains were Cognitive, Level of consciousness, Inattention, Psychiatric-Behavioral, Emotional dysregulation, Psychomotor features, and Functional. Themes debated by experts included reconciling clinical geriatrics and psychiatric content, mapping symptoms to one specific domain, and accurate capture of unclear clinical presentations.
Conclusions
We believe this work represents the first application of instrument development science to delirium. The identified content domains are inclusive of various, wide-ranging domains of delirium severity and are reflective of a consistent framework that relates delirium severity to potential clinical outcomes. Our content domain framework provides a foundation for development of delirium severity instruments that can help improve care and quality of life for patients with delirium.