08-06-2017 | Original Article | Uitgave 6/2017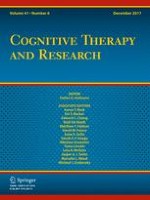 Unique Correlates of Problem Solving Effectiveness in Individuals with Generalized Anxiety Disorder
Tijdschrift:
Auteurs:

Elizabeth J. Pawluk, Naomi Koerner, Kathleen Tallon, Martin M. Antony
Belangrijke opmerkingen
Data Availability: Data are available from the corresponding author on reasonable request.
Abstract
Over the last decade, research on the problem-solving characteristics of individuals high in chronic worry has waned. It is proposed that there remains a lot to be learned about the way in which excessive and uncontrollable worrying affects the way in which people approach problems. The present study examined the relations of negative problem orientation, problem solving styles, intolerance of uncertainty, and worry to in vivo problem-solving performance in people with generalized anxiety disorder (GAD; N = 43). Problem-solving performance was assessed by rating participants' ability to develop effective problem solutions. Impulsive/careless problem-solving style was uniquely predictive of lower effectiveness of problem solutions; whereas negative problem orientation, habitual avoidant problem solving style, intolerance of uncertainty and chronic worrying were not. After controlling for state anxiety, none of the variables were unique correlates of problem-solving effectiveness. The study represents an initial examination of the potential impact of negative problem orientation, dysfunctional problem-solving style, intolerance of uncertainty, and worry on problem-solving quality. The findings are discussed in relation to theoretical models and therapeutic approaches for GAD.