27-01-2016 | Original Paper | Uitgave 6/2016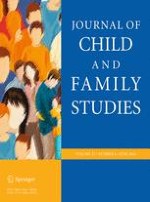 Understanding Young Adults' Reports of Contact with their Parents in a Digital World: Psychological and Familial Relationship Factors
Tijdschrift:
Auteurs:

Catherine H. Stein, Lawrence A. Osborn, Sarah C. Greenberg
Abstract
Continued involvement of parents in the lives of young adults is a topic of great interest to both scholars and the lay public. Although young adults' astounding use of cell phones, texting, video chat, and social media in negotiating their social relationships is well documented, few studies have examined the role of different types of communications technology in facilitating young adults' involvement with their parents. Researchers have begun to examine familial and psychological correlates of parental involvement for college students, but existing studies offer mixed results. The present study examined college students' reports of frequency of contact with parents using different types of communications technology and examined familial relationship and individual well-being factors associated with young adults' reports of frequent parental contact. College students (
N
= 326) completed measures of frequency of contact with mothers and fathers using seven types of communications technology, the quality of family relationships (felt obligation towards parents and family satisfaction) and individual well-being (self-esteem, depressed mood, and general psychological well-being). Phone calls and texting were the two most popular methods of parental contact reported by college students. Level of self-reported contact with parents was not significantly related to participants' reports of self-esteem, depressed mood, or general well-being. Results of multinomial logistic regression analyses indicated that higher levels of felt obligation and family satisfaction meaningfully distinguished between young adults who reported frequent and infrequent parental contact. Our results indicate the importance of understanding young adults' reports of parental contact within the context of ongoing family relationships.