13-04-2018 | Uitgave 3/2018 Open Access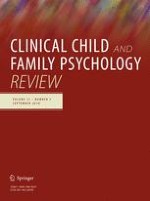 Understanding Social Anxiety Disorder in Adolescents and Improving Treatment Outcomes: Applying the Cognitive Model of Clark and Wells (1995)
Tijdschrift:
Auteurs:

Eleanor Leigh, David M. Clark
Abstract
Social anxiety disorder is a condition characterised by a marked and persistent fear of being humiliated or scrutinised by others. Age-of-onset data point to adolescence as a developmentally sensitive period for the emergence of the condition, at a time when the peer group becomes increasingly important. Social anxiety in adolescence is associated with considerable impairment that persists through to adulthood. There are clear potential benefits to delivering effective interventions during adolescence. However, there is limited evidence on the specific efficacy of available therapies. This is in contrast to adults, for whom we have interventions with very specific treatment effects. One such treatment is individual cognitive therapy. Cognitive therapy is based on the cognitive model of social anxiety proposed by Clark and Wells (in: Heimberg, Leibowitz, Hope, Scheiber (eds) Social phobia: diagnosis, assessment and treatment, The Guilford Press, New York,
1995
). The present review examines the potential application of this adult cognitive model to the understanding of adolescent social anxiety and considers additional adolescent-specific factors that need to be accommodated. It is suggested that a developmentally sensitive adoption of the cognitive model of social anxiety disorder (Clark and Wells
1995
) for adolescents may lead to better treatment outcomes.