24-02-2016 | Review Article | Uitgave 4/2016 Open Access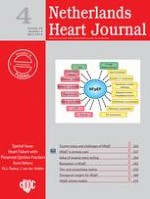 Understanding heart failure with preserved ejection fraction: where are we today?
Tijdschrift:
Auteurs:

L. van Heerebeek, W. J. Paulus
Abstract
Heart failure with preserved ejection fraction (HFpEF) represents a complex and heterogeneous clinical syndrome, which is increasingly prevalent and associated with poor outcome. In contrast to heart failure with reduced ejection fraction (HFrEF), modern heart failure pharmacotherapy did not improve outcome in HFpEF, which was attributed to incomplete understanding of HFpEF pathophysiology, patient heterogeneity and lack of insight into primary pathophysiological processes. HFpEF patients are frequently elderly females and patients demonstrate a high prevalence of non-cardiac comorbidities, which independently adversely affect myocardial structural and functional remodelling. Furthermore, although diastolic left ventricular dysfunction represents the dominant abnormality in HFpEF, numerous ancillary mechanisms are frequently present, which also negatively impact on cardiovascular reserve. Over the past decade, clinical and translational research has improved insight into HFpEF pathophysiology and the importance of comorbidities and patient heterogeneity. Recently, a new paradigm for HFpEF was proposed, which states that comorbidities drive myocardial dysfunction and remodelling in HFpEF through coronary microvascular inflammation. Regarding the conceptual framework of HFpEF treatment, emphasis may need to shift from a 'one fits all' strategy to an individualised approach based on phenotypic patient characterisation and diagnostic and pathophysiological stratification of myocardial disease processes. This review will describe these novel insights from a pathophysiological standpoint.