04-11-2015 | Uitgave 4/2015 Open Access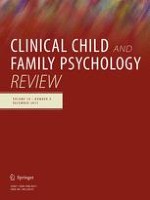 Underlying Mechanisms of Gene–Environment Interactions in Externalizing Behavior: A Systematic Review and Search for Theoretical Mechanisms
Tijdschrift:
Auteurs:

Joyce Weeland, Geertjan Overbeek, Bram Orobio de Castro, Walter Matthys
Abstract
Over the last decade, several candidate genes (i.e.,
MAOA
,
DRD4
,
DRD2
,
DAT1
,
5
-
HTTLPR
, and
COMT
) have been extensively studied as potential moderators of the detrimental effects of postnatal family adversity on child externalizing behaviors, such as aggression and conduct disorder. Many studies on such candidate gene by environment interactions (i.e., cG × E) have been published, and the first part of this paper offers a systematic review and integration of their findings (
n
= 53). The overview shows a set of heterogeneous findings. However, because of large differences between studies in terms of sample composition, conceptualizations, and power, it is difficult to determine if different findings indeed illustrate inconsistent cG × E findings or if findings are simply incomparable. In the second part of the paper, therefore, we argue that one way to help resolve this problem is the development of theory-driven a priori hypotheses on which biopsychosocial mechanisms might underlie cG × E. Such a theoretically based approach can help us specify our research strategies, create more comparable findings, and help us interpret different findings between studies. In accordance, we describe three possible explanatory mechanisms, based on extant literature on the concepts of (1) emotional reactivity, (2) reward sensitivity, and (3) punishment sensitivity. For each mechanism, we discuss the link between the putative mechanism and externalizing behaviors, the genetic polymorphism, and family adversity. Possible research strategies to test these mechanisms, and implications for interventions, are discussed.