30-09-2016 | Uitgave 2/2017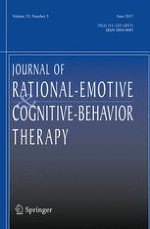 Unconditional Self Acceptance and Self Esteem in Relation to Frustration Intolerance Beliefs and Psychological Distress
Auteur:

Tahira Jibeen
Abstract
The present study examines the moderating role of unconditional self acceptance and self esteem in relation to frustration intolerance beliefs and psychological distress. Participants were one hundred and fifty student (aged 18–25) studying at three universities (COMSATS Institute of Information Technology, University of Management Sciences, and University of Central Punjab) of Lahore, Pakistan. They completed a demographic information sheet, the Frustration Discomfort Scale (Harrington in Clin Psychol Psychother 12:374–387,
2005a
), the Rosenberg Self-Esteem Scale (Rosenberg in Society and the adolescent self image. Princeton University Press, Princeton,
1965
), the Unconditional Self Acceptance Questionnaire (Chamberlain and Haaga in J Ration Emotive Cogn Behav Ther 19:163–176,
2001a
), and the General Health Questionnaire (Goldberg in Manual of the General Health Questionnaire. NFERNelson, Great Britain,
1972
). The results demonstrated the moderating effects of unconditional self acceptance and self esteem in the relationship between frustration intolerance beliefs (entitlement, achievement, emotional intolerance, and discomfort intolerance) and psychological distress . The present findings highlight the importance unconditional self acceptance that reduces the emotional problems of students hindering their educational and personal growth.