15-12-2018 | Brief Communication | Uitgave 4/2019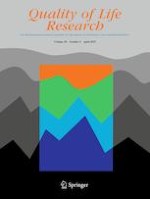 Trials with proxy-reported outcomes registered on the Australian New Zealand Clinical Trials Registry (ANZCTR)
Tijdschrift:
Auteurs:

Rebecca Mercieca-Bebber, Douglas Williams, Margaret-Ann Tait, Claudia Rutherford, Lucy Busija, Natasha Roberts, Michelle Wilson, Chindhu Shunmuga Sundaram, Jessica Roydhouse, the International Society for Quality of Life Research (ISOQOL) Australia and New Zealand Special Interest Group
Belangrijke opmerkingen
Electronic supplementary material
This paper was reviewed and endorsed by the ISOQOL Board of Directors as an ISOQOL publication and does not reflect an endorsement of the ISOQOL membership.
Note that categories marked with* are not mutually exclusive [
9
].
Publisher's Note
Springer Nature remains neutral with regard to jurisdictional claims in published maps and institutional affiliations.
Abstract
Aims
A proxy is someone other than a patient who reports a patient's outcomes as if they are the patient. Due to known discordance with patient reports, proxies are often not recommended in clinical trials; however, proxies may be needed in certain research contexts. We aimed to identify and describe trials registered on the Australian New Zealand Clinical Trials Registry (ANZCTR) with proxy-reported endpoints.
Methods
ANZCTR was systematically searched from inception (2005) to 31 March 2017 for trials with proxy-reported endpoints. Primary and secondary endpoints for each trial retrieved by the search were individually coded (proxy-reported: yes/no), and trials with confirmed proxy-reported endpoints were included in the analysis.
Results
Of 13,666 registered trials, 469 (3.4%) included a proxy-reported endpoint (867 individual proxy-reported endpoints in total: 62% family member proxy, 22% health professional). Proxy endpoint inclusion did not significantly increase over time (
r
 = 0.18,
p
 = 0.59). Mental health (11.5%), stroke (10.3%) and neurological (8.3%) trials had the highest proportion of trials using proxies. Of the 469 trials, 123 (26.2%) studies involved paediatric patients.
Discussion
Proxy-reported endpoints are included in a small but notable number of studies, which may indicate other types of outcomes are used for patients unable to self-report, or that these patients are under-researched.