01-05-2014 | Original Paper | Uitgave 4/2014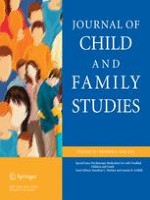 Trends in Psychotropic Medication Use for Medicaid-Enrolled Preschool Children
Tijdschrift:
Auteurs:

Cynthia A. Fontanella, Danielle L. Hiance, Gary S. Phillips, Jeffrey A. Bridge, John V. Campo
Abstract
Pharmoepidemiological studies have reported dramatic increases in the use of psychotropic medications for very young children in the 1990s, but more recent trends have not been well-documented. This study describes patterns of psychotropic medication use for Medicaid-enrolled preschool children and identifies factors associated with psychotropic medication use. Using Medicaid claims data, we conducted a trend analysis of psychotropic medication prescribing patterns for the population of preschool children (aged 2–5 years) continuously enrolled in Ohio's Medicaid program from 2002 to 2008 (
N
= 559,275). Children were identified as users of psychotropic medications if they had at least one prescription claim during the study period (
N
= 23,019). The overall rate of psychotropic medication use increased only slightly from 1.7 to 1.9 % between 2002 and 2008. Significant increases in the use of stimulants, alpha-agonist medications, and especially antipsychotics, which more than doubled from .2 % in 2002 to .5 % in 2008, were balanced by significant decreases in the use of antidepressants and mood stabilizers. Of those treated with psychotropic medications, a little over a quarter (28.4 %) had a mental health assessment, 23.7 % had a visit with a psychiatrist, and 29.7 % had a psychotherapy visit. Children who were older, white, male, disabled, and in foster care were more likely to receive psychotropic medications. The diagnoses most associated with psychotropic medication use were ADHD, bipolar disorder, and disruptive behavior disorders. In conclusion, our data suggest growth in the proportion of preschoolers being treated with antipsychotics, stimulants and alpha agonists, primarily for behavioral disturbances and aggressive symptoms. Most preschool children prescribed psychotropic medication do not receive the psychosocial services recommended by current treatment guidelines.