09-09-2015 | Original Article - Design Study Article | Uitgave 11/2015 Open Access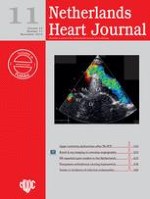 Trends in incidence of infective endocarditis at the Medical Center of Alkmaar
Tijdschrift:
Auteurs:

M.M.G. Krul, A.B.A. Vonk, J.H. Cornel
Abstract
Introduction
Infective endocarditis (IE) is a life-threatening illness with a high morbidity and mortality, and with a rise in incidence in patients with prosthetic valves and cardiac devices. Recently the Dutch guidelines of IE prophylaxis have been revised, limiting IE prophylaxis to the highest-risk population. The aim of the present study was to investigate the incidence of IE and its trend between 2008–2013 in a regional hospital in the Netherlands.
Methods
This is an observational descriptive study of all patients who were admitted with IE to the Medical Center of Alkmaar (MCA) from 1 January 2008 to 31 December 2013.
Results
A total of 89 patients with IE, including 7 patients (7.9 %) with a cardiac device IE (CDIE), were identified. In 2008 there were 8 patients with IE, this increased to 26 patients in 2013. Patients with a prosthetic valve IE increased from 25 % in 2008 to 34.6 % in 2013. This increase was not seen in patients with CDIE.
Conclusion
In the MCA we have observed an increase in patients with IE since 2010. This increase was in part attributable to prosthetic valve IE. A larger observational study is needed to investigate the increase of IE in the Netherlands.