01-12-2011 | Study protocol | Uitgave 1/2011 Open Access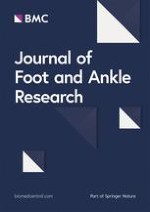 Treatment of forefoot problems in older people: study protocol for a randomised clinical trial comparing podiatric treatment to standardised shoe advice
Tijdschrift:
Auteurs:

Babette C van der Zwaard, Petra JM Elders, Dirk L Knol, Kees J Gorter, Louis Peeraer, Daniëlle AWM van der Windt, Henriëtte E van der Horst
Belangrijke opmerkingen
Electronic supplementary material
The online version of this article (doi:
10.​1186/​1757-1146-4-11
) contains supplementary material, which is available to authorized users.
Babette C van der Zwaard, Petra JM Elders contributed equally to this work.
Competing interests
The authors declare that they have no competing interests.
Authors' contributions
BvdZ will be responsible for data-collection and wrote, together with PE, the manuscript. DK has carried out the power analysis and helped to write the statistical paragraph. PE, KG, LP, DvdW and HvdH developed the original concept of the study and commented on the manuscript. The study design was further developed by BvdZ, PE, KG, LP, DvdW and HvdH. All authors have read and approved the final manuscript.
Abstract
Background
Foot problems in general and forefoot problems in particular can lead to a decrease in mobility and a higher risk of falling. Forefoot problems increase with age and are more common in women than in men. Around 20% of people over 65 suffer from non-traumatic foot problems and 60% of these problems are localised in the forefoot. Little is known about the best way to treat forefoot problems in older people. The aim of this study is to compare the effects of two common modes of treatment in the Netherlands: shoe advice and podiatric treatment. This paper describes the design of this study.
Methods
The study is designed as a pragmatic randomised clinical trial (RCT) with 2 parallel intervention groups. People aged 50 years and over who have visited their general practitioner (GP) with non traumatic pain in the forefoot in the preceding year and those who will visit their GP during the recruitment period with a similar complaint will be recruited for this study. Participants must be able to walk unaided for 7 metres and be able to fill in questionnaires. Exclusion criteria are: rheumatoid arthritis, neuropathy of the foot or pain caused by skin problems (e.g. warts, eczema). Inclusion and exclusion criteria will be assessed by a screening questionnaire and baseline assessment. Those consenting to participation will be randomly assigned to either a group receiving a standardised shoe advice leaflet (n = 100) or a group receiving podiatric treatment (n = 100). Primary outcomes will be the severity of forefoot pain (0-10 on a numerical rating scale) and foot function (Foot Function 5-pts Index and Manchester Foot Pain and Disability Index). Treatment adherence, social participation and quality of life will be the secondary outcomes. All outcomes will be obtained through self-administered questionnaires at the start of the study and after 3, 6, 9 and 12 months. Data will be analysed according to the "intention-to-treat" principle using multilevel level analysis.
Discussion
Strength of this study is the comparison between two common primary care treatments for forefoot problems, ensuring a high external validity of this trial.
Trial registration
Netherlands Trial Register (NTR):
NTR2212