26-06-2020 | Original Paper | Uitgave 8/2020 Open Access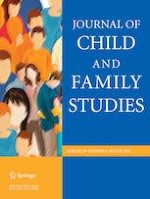 Trauma and Parenting Beliefs: Exploring the Ethnotheories and Socialization Goals of Palestinian Mothers
Tijdschrift:
Auteurs:

Saija L. Kankaanpää, Sanna Isosävi, Safwat Y. Diab, Samir R. Qouta, Raija-Leena Punamäki
Belangrijke opmerkingen
Publisher's note
Springer Nature remains neutral with regard to jurisdictional claims in published maps and institutional affiliations.
Abstract
Parenting beliefs are important to infant wellbeing, but there is a lack of research into their role in war conditions. We examined (1) how maternal traumatic experiences (war events and childhood abuse) and mental health would be associated with parenting beliefs about good childrearing practices (ethnotheories) and desirable child characteristics (socialization goals) and (2) whether parenting beliefs mediate the impact of traumatic experiences and mental health on mother–infant interaction and infant development. Palestinian mothers (
N
 = 510) participated during pregnancy and at four and 12 months postpartum. They reported current traumatic war events, emotional and physical abuse in their own childhood and mental health (posttraumatic stress disorder, depression, and anxiety symptoms), their ethnotheories and socialization goals and the quality of dyadic mother–infant interactions and infant developmental skills (language, fine-motor, and gross-motor). High maternal exposure to traumatic war events was associated with higher autonomy-enhancing—and lower relatedness-enhancing—socialization goals. Conversely, maternal childhood abuse was associated with higher relatedness-enhancing—and lower autonomy-enhancing—socialization goals. High maternal exposure to traumatic war events was associated with high levels of positive dyadic interaction, whereas high emotional and physical abuse and mental health problems were associated with low levels of positive dyadic interaction. Parenting beliefs did not mediate the impact of maternal traumatic experiences and mental health on dyadic interaction or infant development. The nature of maternal traumatic experiences was central for the socialization goals in unique and specific ways. The findings emphasize the meaningfulness of parenting values, goals, and practices among mothers caring for their infants in war conditions.