20-08-2021 | Original Article | Uitgave 11/2021 Open Access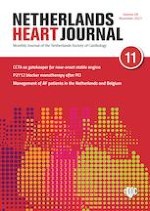 Transcatheter tricuspid valve repair: early experience in the Netherlands
Tijdschrift:
Auteurs:

F. Meijerink, K. T. Koch, R. J. de Winter, M. Holierook, B. J. W. M. Rensing, L. Timmers, F. D. Eefting, M. J. Swaans, B. J. Bouma, J. Baan
Belangrijke opmerkingen
Supplementary Information
B.J. Bouma and J. Baan share senior authorship.
Abstract
Background
Symptomatic tricuspid regurgitation (TR) is increasingly prevalent and impairs quality of life and survival, despite medical treatment. Transcatheter tricuspid valve repair (TTVR) has recently become available as a treatment option for patients not eligible for tricuspid valve surgery. In this study we describe the early experience with TTVR in the Netherlands.
Methods
All consecutive patients scheduled for TTVR in two tertiary hospitals were included in the current study. Patients were symptomatic and had severe functional TR. TTVR was performed either with the MitraClip (off-label use) or dedicated TriClip delivery system and device. Procedural success was defined as achievement of clip implantation, TR reduction ≥ 1 grade and no need for re-do surgical or transcatheter intervention. Clinical improvement was evaluated after 4 weeks.
Results
Twenty-one patients (median age 78 years, 33% male, 95% New York Heart Association class ≥ 3, 100% history of atrial fibrillation) underwent TTVR. Procedural success was achieved in 16 patients, of whom 15 reported symptomatic improvement (New York Heart Association class 1 or 2). There was no in-hospital mortality and no major complications occurred. Baseline glomerular filtration rate and TR coaptation gap size were associated with procedural success.
Conclusion
The current study showed that TTVR seems a promising treatment option for patients with severe functional TR deemed high risk for surgery. Successful TR reduction is most likely in patients with limited coaptation gap size and strongly determines clinical benefit. Adequate patient selection and timing of treatment seem essential for an optimal patient outcome.