01-01-2012 | Uitgave 1/2012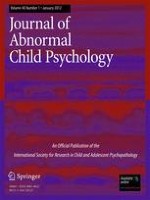 Trajectories of Attention Deficit Hyperactivity Disorder and Oppositional Defiant Disorder Symptoms as Precursors of Borderline Personality Disorder Symptoms in Adolescent Girls
Tijdschrift:
Auteurs:

Stephanie D. Stepp, Jeffrey D. Burke, Alison E. Hipwell, Rolf Loeber
Abstract
Little empirical evidence exists regarding the developmental links between childhood psychopathology and borderline personality disorder (BPD) in adolescence. The current study addresses this gap by examining symptoms of attention deficit hyperactivity disorder (ADHD) and oppositional defiant disorder (ODD) as potential precursors. ADHD and BPD share clinical features of impulsivity, poor self-regulation, and executive dysfunction, while ODD and BPD share features of anger and interpersonal turmoil. The study is based on annual, longitudinal data from the two oldest cohorts in the Pittsburgh Girls Study (
N
 = 1,233). We used piecewise latent growth curve models of ADHD and ODD scores from age 8 to 10 and 10 to 13 years to examine the prospective associations between dual trajectories of ADHD and ODD symptom severity and later BPD symptoms at age 14 in girls. To examine the specificity of these associations, we also included conduct disorder and depression symptom severity at age 14 as additional outcomes. We found that higher levels of ADHD and ODD scores at age 8 uniquely predicted BPD symptoms at age 14. Additionally, the rate of growth in ADHD scores from age 10 to 13 and the rate of growth in ODD scores from 8 to 10 uniquely predicted higher BPD symptoms at age 14. This study adds to the literature on the early development of BPD by providing the first longitudinal study to examine ADHD and ODD symptom trajectories as specific childhood precursors of BPD symptoms in adolescent girls.