20-05-2017 | ORIGINAL PAPER | Uitgave 6/2017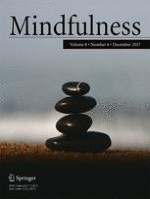 Trait Mindfulness Is Associated with Lower Post-Injury Psychological Symptoms Following a Mild Head Injury
Tijdschrift:
Auteurs:

John E. Krzeczkowski, Sean A. Robb, Dawn E. Good
Abstract
Up to 25% of individuals that experience a mild head injury (MHI) suffer from long-term psychological and cognitive symptoms. Currently, there is a lack of evidence regarding potential modifiable protective factors that could decrease the risk and severity of long-term MHI sequelae. Therefore, we investigated whether trait mindfulness was associated with fewer clinically relevant psychological and neurocognitive symptoms in individuals following a mild head injury. A quasi-experimental study design with university students (
n
= 63) was conducted to examine associations between self-reported facets of mindfulness and psychological, post-concussive, and neurocognitive symptoms in a MHI and a no-MHI cohort. In both MHI and no-MHI cohorts, greater mindfulness tendencies were associated with significantly fewer psychological and post-concussive symptoms. Further, the odds of reporting clinically relevant depression scores were significantly lower as a function of greater mindfulness skills. However, neurocognitive outcomes were not associated with any mindfulness facets. These results indicate that mindfulness traits could promote skill sets necessary to circumvent psychological and post-concussive symptoms following a MHI. Due to the increased risk of a myriad of potential adverse outcomes following MHI, more research should be directed towards interventions designed to increase mindfulness in those suffering from persistent symptoms and those at an increased risk of sustaining a MHI.