01-06-2008 | Original Article | Uitgave 3/2008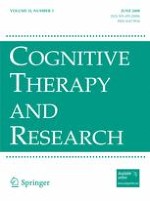 Training Non-Threatening Interpretations in Spider Fear
Tijdschrift:
Auteurs:

Bethany A. Teachman, Lindsay M. Addison
Abstract
To evaluate a causal relationship between biased information processing and fear responding, as posited by many cognitive models of anxiety disorders, spider-relevant interpretations were trained to be non-threatening in an analog phobic sample. Participants high in spider fear (
N
= 61) were randomly assigned to a 'Positive training' condition, or to a 'Neutral training' or 'No training' control condition. 'Positive training' involved learning to ascribe non-threatening meanings to emotionally ambiguous scenarios. Results suggested this training was successful at inducing interpretation biases to be non-threatening, as indicated by faster responses to positive (versus negative) word fragments, as well as more positive and less negative interpretations of novel scenarios (relative to control conditions). Notwithstanding, the impact of training on subsequent avoidance and fear when presented with a live spider was minimal. No differences across training conditions were found; however, faster responding to positive word fragments predicted less avoidance and fear for participants receiving 'Positive training'.