Gepubliceerd in: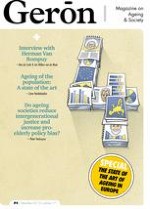 01-12-2015 | Netherlands
TOPICS-MDS: a unique source of information on elderly people and family caregivers
Gepubliceerd in: Geron | bijlage 1/2015
Abstract
Anyone who is involved in health care can access the national TOPICS-MDS database for data on vulnerable older people and family caregivers. This database contains details on all of the participants to the NPO projects. "This is a unique source of information," according to project manager Dannie van den Brink and project leader René Melis of Radboud University Medical Centre. "The data set provides an important stimulus to cooperation in the field of elderly care research." This article describes their story about the creation and significance of the database.
Laura van der Mark
is a content writer for Leene Communicatie, communications agency in Gouda,
www.leenecommunicatie.nl
.
Database enjoys broad support
TOPICS-MDS stands for 'The Older Persons and Informal Caregivers Survey Minimum Data Set'. As the name implies, this is a minimum data set containing details of 43,000 elderly people and 8,500 family caregivers who were involved in an NPO project. The data were collected by the project leaders of 53 NPO projects, who administered questionnaires to participating elderly and caregivers.
TOPICS-MDS consists of three sections. The first section contains information as described by the older adult or the caregiver, including gender, age and level of education. The second section contains information about the physical, mental and emotional health of the elderly persons. Finally, the third section records the use of care of each individual older person. The researchers administered the questionnaire at least twice; prior to and after completion of every project.
Having the respondents complete the TOPICS-MDS questionnaires was a grant requirement for all of the NPO projects. "Obviously, that provided a strong incentive," according to Melis, "but subsequently we took the initiative, together with researchers of the eight University Medical Centres, to form a consortium. Collectively, we determined exactly what this minimum data set should contain." The consortium, which was coordinated by Radboud University Medical Centre, developed standardized questionnaires and decided on the tools to be used. "This collective responsibility for the contents created broad support for the TOPICS-MDS survey and database."
Comparing interventions
The idea behind TOPICS-MDS was to compare the interventions that were implemented within the projects. Van den Brink explained: "This would enable us to differentiate effective elements from ineffective ones. The great variety in substance of the various interventions made it impossible to compare all of them properly, but we were able to group relatively similar interventions together. This allows for a generalization of a much larger group that will indicate whether this particular type of intervention is effective or not. In addition, this approach would allow for a meaningful study of subgroups (such as older and younger elderly), which would constitute too small a group in each of the individual studies." Furthermore, it makes it possible to measure the results per intervention. Melis added: "Has care use declined among the elderly? And what did it cost? Has the quality of life improved? The outcomes can be analyzed for the entire population, or, alternatively, disaggregated along gender, age, or clinical picture, for instance."
Which data does TOPICS-MDS contain?
Data about elderly people:
Demographic characteristics such as age, gender, origin, marital status, home circumstances, level of education, socio-economic status

Health perceptions (according to the Rand-36 survey instrument)

Quality of life (according to EQ-5D+C; Cantril's Self Anchoring Ladder, perceived change in quality of life)

Multimorbidity (17 chronic medical conditions, largely based on the Local and National Health Monitor)

ADL functioning (according to the Katz-15 instrument)

Psychological well-being (according to the Rand-36 instrument)

Social functioning (according to the Rand-36 instrument)

Use of care (admissions to hospital and length of stay; emergency visits; admission to a care home or nursing home)
Data about family caregivers:
Demographic characteristics such as age, gender, socio-economic status, type of (blood) relationship/residing with the elderly person

Health perceptions (according to the Rand-36 survey instrument)

Objective burden of informal caregiving (by number of hours per week)

Subjective burden of informal caregiving (visual analogue scale and CarerQol)

Perceived quality of life (according to Cantril's Self Anchoring Ladder)

Perceived change in quality of life
In view of this success, the database has been made available also to external researchers, healthcare professionals and policymakers since early in 2014 – at home and abroad. "Anyone who is involved in elderly care can apply for access to the database," as Melis explained. "We will subsequently assess whether the data are relevant to the area of investigation. In addition, the social relevance of the study is important to us as our goal is to give the results back to society."
Family caregivers
According to Melis and Van den Brink, it is a logical choice to include not just the data on elderly people, but those of their caregivers as well. "It is very important to know how they are doing," Van den Brink explained. "We need to know, for example, how many hours they spend giving care, and how they perceive their quality of life and health condition. Linking these data to characteristics of the elderly, such as their perceived health condition, their use of care or their clinical picture, will yield highly valuable information." According to Melis and Van den Brink, it is very important for researchers to focus on more than just the elderly and to include information on the caregivers in their surveys as well. "If an intervention makes the older person feel better while the caregiver breaks under the pressure, it will not benefit society at all!"
Complexities in practice
Generating exposure for the database does, however, require considerable efforts on the part of the consortium. Melis stated: "There is a growing tendency among researchers to think that data must be kept available for reuse. In practice, however, researchers find this quite complicated. Those who possess the data are not always willing to share them for fear of being outshined by others who use their data. On the other hand, researchers who need data do not always think of using the data produced by others. Our TOPICS-MDS project shows that researchers are definitely willing to cooperate when it comes to sharing data. In addition, the project has taught us that it is important to keep the needs of future users in mind, and how you can encourage them to use these data, for instance through smaller subsidies for young researchers. This way, we can kill two birds with one stone; on the one hand, you promote the use and recognition of the data set while on the other hand, you promote the careers of young researchers."
Researcher Jeanet Blom (LUMC) uses TOPICS-MDS
"For a project within the NPO, we have conducted a primary care screening of elderly people for their vulnerability and subsequently performed an intervention on the elderly identified as vulnerable. The goal was to improve the responsiveness of care to the needs of the elderly and to improve the collaboration between all of the care providers involved. Other University Medical Centres have studied this type of intervention programme as well. Our own study results did not reveal any impact on the self-reliance and quality of life of these older persons. The next step was to verify whether the intervention was, indeed, effective for certain subgroups, such as care home residents or seniors over 85 years of age. Unfortunately, our research population was too small for this purpose, but if we were able to use the results of all University Medical Centres, we could do it. TOPICS-MDS helped us in this respect, as it contains all of these data."
"We prepared a proposal describing why we feel this research would be important. The TOPICSMDS committee approved this proposal and gave us access to the data of all of the eight projects. Today, we are studying whether there are certain subgroups for whom the intervention is, indeed, effective. Furthermore, each project used a different tool for early detection of vulnerability. We will examine the differences. I hope that we will be able to discover for which elderly people a specific intervention is effective, so that we can improve the quality of life for that particular group. In addition, knowledge of the effectiveness of specific interventions is very useful information for general practitioners."
"I am very pleased with the single point of access to the data of various surveys that TOPICS-MDS provides. What is special in this respect is that the consortium's social council evaluates the relevance of research applications. A significant effect of this database is that it leads to cooperation and fruitful discussions with other researchers. After all, working with other people's data is conducive to starting discussions on their analyses and conclusions."
In the meantime, the number of new requests has been growing steadily since the beginning of 2014. Over twenty applications have been submitted since then. "This concerns particularly healthcare researchers," Van den Brink explained, "but economists and sociologists are interested in our data as well." In addition, the researchers receive requests from abroad. Van den Brink said: "There is this American researcher who wants to analyse the differences between young and older family caregivers. She also wants to compare caregivers in the Netherlands and the United States." On a European level, there are other initiatives concerning similar minimum data sets. One example is the Geriatric Minimum Data Set, which compares geriatric care models on a European scale.
Ongoing relevance
Melis and Van den Brink feel that TOPICS-MDS can offer a significant contribution to the quality of life of elderly people. "If researchers start to collect data systematically, the importance of the database as a source of information will grow. It will reveal more and more details of the physical, mental and emotional condition of older persons, and it will reveal which interventions are effective and which are not, and why, for instance, one group is doing better than the next."
Melis and Van den Brink have several plans to enhance the relevance of the data. Melis declared: "Parties such as municipalities and health insurers have a great need for the data we collect. They need to know how elderly people in the Netherlands are doing, and how we benefit from healthcare. It would be marvellous if we could collect such data on an ongoing basis, and if we could turn this into a large-scale monitoring instrument. Another idea we are entertaining is to have elderly people complete the questionnaires themselves. We are currently investigating options to achieve this. The list of questions we have developed is ready for further implementation."
The researchers also plan to link the data from TOPICS-MDS to other databases. "Just imagine how this could multiply the benefits!" Van den Brink stated. "This would enable us to link data to specific care groups and care methods, or to certain regional data sets, which would allow us to zoom in more specifically on the condition of elderly people in a defined area. Unfortunately, we do not yet have the permission of the participating elderly to do this. To avoid aggravating the burden of the process, we have not asked them initially, so that is something we need to do next. We take it step by step."
The National Care for the Elderly Programme (Dutch abbreviation: NPO)
The NPO is designed to improve care for elderly people with complex care needs in The Netherlands. For this purpose, numerous organizations have joined forces on a national as well as a regional level. The goal is to proceed towards a coherent care supply that is better tailored to the individual needs of the elderly. Within the NPO, some 75 transition experiments and research and implementation projects are currently being conducted. The results have been available since April of 2015 at
www.BeterOud.nl
. The NPO is a programme of ZonMw in conjunction with NFU (the Dutch Federation of University Medical Centres) and CSO (the umbrella organization for senior citizens' organizations). The NPO was launched in 2008 on the instructions of the Dutch Ministry of Health, Welfare and Sport.
×