2009 | OriginalPaper | Hoofdstuk
16.
Toepassing van bioresorbeerbare materialen in de tandheelkunde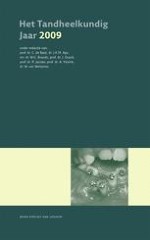 eerste hoofdstuk lezen
Auteurs: B. Van Minnen, G.J. Buijs, P.F.M. Gielkens, R.R.M. Bos
Uitgeverij: Bohn Stafleu van Loghum
Abstract
Bioresorbeerbare of biodegradeerbare materialen zijn materialen die als gemeenschappelijke eigenschap hebben dat zij kunnen ontbinden in een biologische omgeving. Zij zijn er in vele vormen en worden in vele toepassingen gebruikt. Bij het grote publiek zijn ze vooral bekend geworden door de degradeerbare verpakkingsmaterialen, die na gebruik kunnen ontbinden op de vuilstortplaats of de composthoop. In medische toepassingen wordt ook steeds vaker gebruikgemaakt van soortgelijke materialen.