Gepubliceerd in: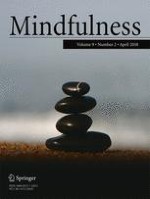 26-08-2017 | ORIGINAL PAPER
To What Extent is Mindfulness as Presented in Commonly Used Mindfulness Questionnaires Different from How it is Conceptualized by Senior Ordained Buddhists?
Gepubliceerd in: Mindfulness | Uitgave 2/2018
Log in om toegang te krijgen
Abstract
The current study responded to the need for more empirical investigations into differences in the conceptualization of mindfulness between Buddhism and Western psychology. Five senior clergy from three branches of Buddhism were interviewed for their opinion on the Mindfulness Attention and Awareness Scale (MAAS), Kentucky Inventory of Mindfulness Skills (KIMS), Five Factor Mindfulness Questionnaire (FFMQ), and Freiburg Mindfulness Inventory-30 (FMI-30). The interviewees also rated the questionnaire items for an ideal Buddhist in their tradition, in order to provide a stimulus for discussion and to collect quantitative data along with the qualitative data. Eight themes in relation to the elements and features of Buddhist mindfulness emerged from thematic analysis. The themes indicated that there are considerable differences between Buddhist mindfulness and mindfulness as presented by items in the questionnaires. While mindfulness in psychology is frequently conceptualized as non-judgmental, present-centered awareness, Buddhist mindfulness contains elements of attentional flexibility, skillfulness, purposefulness, wisdom, and ethics. Buddhist mindfulness not only involves awareness of the present but also the past and future. It not only focuses on self but also on others. The quantitative results revealed that the MAAS and the FMI-30 appeared less incongruent with Buddhist mindfulness than the KIMS and the FFMQ. Any conceptual differences highlighted in the present study provide avenues for future research as aspects unique to Buddhist mindfulness practice may be linked to psychological benefits also in secular contexts, thus assisting efforts to investigate to what extent secularization of mindfulness practice may have resulted in loss of some potentially beneficial characteristics.