17-02-2018 | ORIGINAL PAPER | Uitgave 5/2018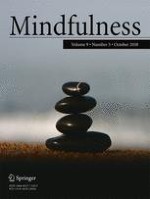 Time and Meditation: When Does the Perception of Time Change with Mindfulness Exercise?
Tijdschrift:
Auteurs:

Sylvie Droit-Volet, Magali Chaulet, Michaël Dambrun
Abstract
This study examined the prospective judgment of interval durations during a mindfulness meditation exercise in comparison with two control exercises involving different degrees of attentional demands and participants who either had or had not been trained to practice mindfulness exercises. The results showed that the interval durations (going from 15 to 60 s) were systematically judged shorter with the different mindfulness exercises (breathing, body scan) than with the control exercises. This underestimation of time was accompanied by the awareness that time seems to pass faster and by a decrease in the level of anxiety. However, the subjective feeling of the passage of time and the anxiety level did not explain time perception during a mindfulness meditation exercise. Further results suggest the critical role of attention in the effects of meditation on time judgments, a finding that is consistent with the idea that time flies during meditation as if time no longer existed.