01-02-2015 | Artikel | Uitgave 1/2015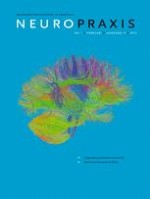 TIA: voorbijgaande focale uitval met blijvende cognitieve gevolgen?
Tijdschrift:
Auteurs:

Frank G. van Rooij, Frank-Erik de Leeuw, Ewoud J. van Dijk
Belangrijke opmerkingen
Dit artikel is een bewerking van 'Persistent cognitive impairment after transient ischemic attack' dat in 2014 is gepubliceerd in Stroke (45, 2270–2274), en werd mede mogelijk gemaakt door financiering vanuit Hersenstichting Nederland (fellowship dr. Ewoud J. van Dijk, F2009(1)-16).
Samenvatting
De symptomen van een transient ischemic attack (TIA) herstellen per definitie volledig binnen 24 uur. Niettemin ervaren veel patiënten nadien verminderd cognitief functioneren. Het is echter niet bekend of een TIA tot blijvende cognitieve achteruitgang kan leiden. Daarom onderzochten we het cognitief functioneren van patiënten na een TIA. Een uitgebreide neuropsychologische screening werd uitgevoerd binnen drie maanden na een TIA bij patiënten tussen de 45 en 65 jaar oud. Per cognitief domein werd een
z
-score berekend, gebaseerd op het gemiddelde van een controlegroep uit dezelfde leeftijdsgroep. Een cognitieve stoornis werd gedefinieerd als een
z
-score kleiner dan -1,65. Daarnaast ondergingen TIA-patiënten cerebrale beeldvorming. In totaal werden 107 TIA-patiënten (63 procent vrouw, gemiddelde leeftijd 56,6 jaar) vergeleken met 81 controles (56 procent vrouw, gemiddelde leeftijd 52,9 jaar). Patiënten presteerden slechter op alle cognitieve domeinen, met uitzondering van het episodisch geheugen. Werkgeheugen (25 procent), aandacht (22 procent) en informatieverwerkingssnelheid (16 procent) waren het meest frequent aangedaan. Stille herseninfarcten waren geassocieerd met slechter executief functioneren, maar verklaarden niet de overige relatie tussen TIA en cognitieve stoornissen. Meer dan 35 procent van de TIA-patiënten had een stoornis in een of meer cognitieve domeinen.