2013 | OriginalPaper | Hoofdstuk
5. Thrombosis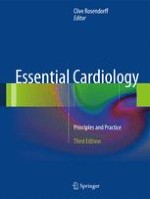 eerste hoofdstuk lezen
Auteurs: MD Farzana R. Bacchus, MD Mark Crowther
Uitgeverij: Springer New York
Abstract
Hemostasis is a preventative mechanism for blood loss after vessel injury, while thrombosis describes the pathogenic formation of thrombi. The precise balance of procoagulant and anticoagulant mechanisms keeps blood in a fluid state while circulating, yet can rapidly respond to vascular injury through clot formation. The initial formation of the platelet plug is classically termed "primary hemostasis," while propagation of the coagulation cascade is termed "secondary hemostasis."
After vessel injury, platelets adhere to the exposed subendothelium via von Willebrand factor and glycoprotein (GP) Ib-IX-V on the platelet surface. Platelets become activated and secrete a number of molecules including ADP and thromboxane A2, which are platelet agonists themselves leading to further platelet activation. Platelet recruitment and aggregation occurs through binding of platelet GPIIbIIIa receptors to fibrinogen leading to formation of the platelet plug. Tissue factor (TF) in the exposed subendothelium also binds to factor VIIa with formation of the TF-FVIIa complex. The TF-FVIIa complex initiates the coagulation cascade with the ultimate production of thrombin, which is a potent agonist for platelet activation.
Chronic atherosclerotic lesions are associated with plaque formation, which, when ruptured, exposes blood to collagen and to TF in the macrophages of atheroma. There are distinct hemostatic factors in the platelet and coagulation systems that modulate atherosclerosis and have an effect on atherothrombosis. A systemic inflammatory environment leads to a proatherogenic endothelium, independent of vessel wall injury. Atherogenic mediators include cytokines, adhesion molecules like P-selectin, and TF.
Given our thorough understanding of primary and secondary hemostasis, numerous antiplatelet and anticoagulant drugs have been synthesized. This chapter reviews in detail the mechanism of action and properties of the various agents used in clinical practice and some newer experimental agents.