01-02-2008 | Original Article | Uitgave 1/2008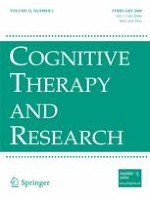 Thought Suppression Confronting a Reminder Stimulus: An Effective Strategy for the Management of Intrusive Thoughts?
Tijdschrift:
Auteurs:

Juan V. Luciano, Salvador Algarabel
Abstract
Previous studies indicate that suppression is a counterproductive mechanism of thought control. In the current paper we examined whether individuals can successfully suppress an intrusive thought confronting a reminder of it, a suppression technique employed on memory research. Thus, 76 undergraduates performed a thought suppression task with three monitoring intervals and were randomly allocated to a suppression-only, suppression confronting a reminder stimulus or monitor-only condition. Data analysis yielded an absence of paradoxical effects (rebound) on target thought frequency. However, the examination of the annoyance associated with the intrusions indicated that those individuals instructed to suppress without confronting the reminder maintained the same level of discomfort reported at baseline, whereas the other participants reduced the discomfort level, suggesting that the confrontation with a reminder is a recommendable strategy for emotion regulation. The implications of these findings are discussed in relation to the clinical and cognitive research on thought control.