28-02-2017 | Original Article | Uitgave 9/2017 Open Access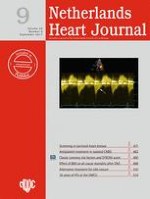 Thirty years of heart transplantation at the University Medical Centre Utrecht
Tijdschrift:
Auteurs:

A. Sammani, A. M. Wind, J. H. Kirkels, C. Klöpping, M. P. Buijsrogge, F. Z. Ramjakhan, F. W. Asselbergs, N. de Jonge
Belangrijke opmerkingen
A. Sammani and A.M. Wind contributed equally.
Abstract
Purpose
To analyse patient demographics, indications, survival and donor characteristics for heart transplantation (HTx) during the past 30 years at the University Medical Centre Utrecht (UMCU).
Methods
Data have been prospectively collected for all patients who underwent HTx at the UMCU from 1985 until 2015. Patients who were included underwent orthotopic HTx at an age >14 years.
Results
In total, 489 hearts have been transplanted since 1985; 120 patients (25%) had left ventricular assist device (LVAD) implantation prior to HTx. A shift from ischaemic heart disease to dilated cardiomyopathy has been seen as the leading indication for HTx since the year 2000. Median age at HTx was 49 years (range 16–68). Median waiting time and donor age have also increased from 40 to 513 days and from 27 to 44 years respectively (range 11–65). Donor cause of death is now primarily stroke, in contrast to head and brain injury in earlier years. Estimated median survival is 15.4 years (95% confidence interval 14.2–16.6) There is better survival throughout these years.
Conclusion
Over the past 30 years, patient and donor demographics and underlying diseases have shifted substantially. Furthermore, the increase in waiting time due to lack of available donor hearts has led to a rise in the use of LVADs as bridge to transplant. Importantly, an improvement in survival rates is found over time which could be explained by better immunosuppressive therapy and improvements in follow-up care.