15-05-2017 | BRIEF REPORT | Uitgave 5/2017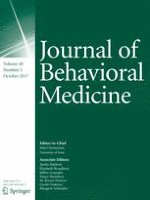 Think fast: rapid assessment of the effects of episodic future thinking on delay discounting in overweight/obese participants
Tijdschrift:
Auteurs:

Jeffrey S. Stein, Yan Yan Sze, Liqa Athamneh, Mikhail N. Koffarnus, Leonard H. Epstein, Warren K. Bickel
Abstract
Accumulating laboratory-based evidence indicates that reducing delay discounting (devaluation of delayed outcomes) with the use of episodic future thinking (EFT; mental simulation of future events) improves dietary decision-making and other maladaptive behaviors. Recent work has adapted EFT for use in the natural environment to aid in dietary and weight control by engaging participants in EFT repeatedly throughout the day. These efforts may benefit from minimizing the amount of time required for measurement and implementation of EFT. Using Amazon Mechanical Turk in the present study, we show that EFT effectively reduces delay discounting in overweight/obese participants (
N
= 131) using the recently developed 5-trial, adjusting-delay discounting task, which can be completed rapidly (25 s) and is therefore ideally suited for ecological momentary assessment. Moreover, measures of delay discounting from this task were strongly correlated with those from the commonly used adjusting-amount task (
r
= .859). Significant effects of EFT on discounting, however, depended on the number of future events participants generated and imagined. Use of a range of events and future time frames (as is typical in the literature) significantly reduced delay discounting, whereas use of only a single event did not.