01-10-2009 | Original article | Uitgave 10/2009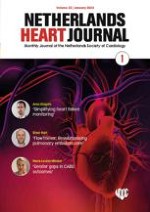 Therapeutic mild hypothermia improves outcome after out-of-hospital cardiac arrest
Tijdschrift:
Auteurs:

I. Andrade Ferreira, M. Schutte, E. Oosterloo, W. Dekker, B. W. Mooi, J. H. E. Dambrink, A. W. J. van 't Hof
Belangrijke opmerkingen
Department of Cardiology, Isala Clinics, Zwolle, the Netherlands
Department of Thorax-Anaesthesiology, Isala Clinics, Zwolle, the Netherlands
A.W.J. van 't Hof Department of Cardiology, Isala Clinics, PO Box 10500, 8000 GM Zwolle, the Netherlands
Abstract
Purpose.
Therapeutic mild hypothermia (TMH) is indicated for comatose survivors of an out-ofhospital cardiac arrest (OHCA) to improve general outcome. Although widely used, there are not many reports on its use on a critical care unit (CCU) or on the comparison of cooling methods.
Methods.
In a retrospective analysis covering January 2005 to December 2006, 75 consecutive comatose subjects post-OHCA due to ventricular fibrillation and nonventricular fibrillation rhythms (asystole/pulseless electrical activity) were studied in a single tertiary PCI centre. Subjects treated with conventional post-resuscitation care without TMH served as controls (
n
=26; Jan 2005–Sep 2005). Outcome from controls at hospital discharge was compared with subjects treated with TMH (n=49; Oct 2005–Dec 2006). During the study period, TMH was induced by either external (
n
=25; Oct 2005–Feb 2006) or endovascular (
n
=24; Mar 2006–Dec 2006) approach.
Results.
Besides more females in the control group, there were no major differences in baseline characteristics present between all groups. TMH improved survival (OR 0.36 [0.13–0.95], p<0.05) and neurological outcome (OR 0.23 [0.07–0.70], p<0.01). After subanalysis, TMH-improved outcome did not differ between the two cooling methods used. However, the times to reach TMH and normothermia were shorter with the endovascular approach.
Conclusion.
TMH induced on a CCU improves survival and neurological outcome after post-OHCA coma. TMH by endovascular approach was more feasible compared with external cooling, but the two cooling methods did not result in a different outcome. (Neth Heart J 2009;17:378–84.)