01-08-2015 | Original Article | Uitgave 4/2015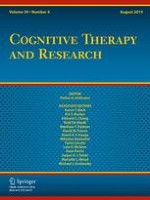 The Use of Motivation Enhancement Therapy to Increase Utilization of a Preventative Intervention for Anxiety Sensitivity
Tijdschrift:
Auteurs:

Kristina J. Korte, Norman B. Schmidt
Abstract
Anxiety sensitivity (AS), the fear of anxiety and its potential consequences, places individuals at an increased risk for the development of anxiety disorders. While elevated AS is correctable, often through very brief interventions, individuals high in AS may be unaware of the risks associated with this risk factor and, therefore, may be unaware or unmotivated to address this potential risk. The purpose of the present investigation was to examine the use of motivation enhancement therapy (MET) to enhance motivation to utilize a preventive intervention in a non-intervention seeking population with elevated levels of AS. We examined this issue in a randomized controlled pilot study. Participants (
N
= 23) were randomized to one of two groups: (1) a MET group (
n
= 12) group or (2) a control group focused on healthy behaviors (
n
= 11). Those in the MET group received MET focused on enhancing motivation to reduce AS, whereas those in the control group received psychoeducation about health and general well being. At the end of the study, all of the participants were given the option to receive a computerized intervention previously found to be effective at reducing AS. Results revealed that the MET group had significant changes in motivation to change anxiety and motivation to attend the AS preventative intervention. Moreover, 50 % of individuals in the MET group completed the preventative intervention in comparison to 0 % in the control group. Implications of the findings are discussed.