01-12-2010 | Review | Uitgave 1/2010 Open Access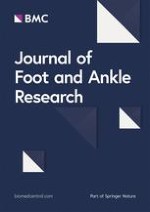 The use of 3D surface scanning for the measurement and assessment of the human foot
Tijdschrift:
Auteurs:

Scott Telfer, James Woodburn
Belangrijke opmerkingen
Electronic supplementary material
The online version of this article (doi:
10.​1186/​1757-1146-3-19
) contains supplementary material, which is available to authorized users.
Competing interests
The authors declare that they have no competing interests.
Authors' contributions
ST and JW conceived the initial idea for the review. ST carried out the initial literature searches. Both authors drafted and prepared the manuscript and approved the final manuscript.
Background
The use of 3D surface scanning technologies to produce digitised representations of parts of the human anatomy has the potential to help change the way a wide range of products are designed and fabricated [
1
]. Until recently, the anthropometric databases that are used by designers and manufacturers to guide the ergonomic form of their products have primarily been based on 1D and 2D measurements, for example leg length or waist girth [
2
]. This approach results in approximations being made when designing to body areas for which an easily defined measurement is not available. Databases that draw upon 3D scans can offer far more detailed information on the contours of the body and potentially provide an insight into changes in anthropometric measurements associated with dynamic movement. Indeed, initiatives such as the CAESAR study (Civilian American and European Surface Anthropometry Resource) [
3
] have been carried out with the aim of collecting this type of information. 3D surface scanning has the potential to play an important role in the development of customised products, i.e. devices and apparel that are designed for the individual using their precise anthropometric measurements [
4
,
5
].
In the case of the foot, quantitative description of its shape is important for a number of different applications relating to the ergonomic design of footwear, foot orthotics and insoles, and for research into and clinical assessment of foot deformities, such as those associated with rheumatoid arthritis [
6
–
9
]. Additionally, because the foot is a flexible and complex structure, a better understanding of how its shape changes in different situations, for example in the different loading phases of the gait cycle, may lead to improvements in the overall comfort and functionality of the footwear and devices that are been produced [
10
].
There are now a number of surface scanning systems (costing between €5,000 and €30,000) available which can scan the plantar surface of the foot or the leg and foot (see Figure
1
). This produces a 3D representation of its shape that can be viewed and analysed on a computer. Software programs which allow these 3D models to be used as the basis for shoe or foot orthotic design and integrate with computer controlled manufacturing systems are now widely available. This has meant that a number of footwear companies are now using integrated customisation systems to produce customer-specific shoes [
11
], and similarly there are now manufacturers providing customised foot orthotics that are based directly upon a scan of the patient's foot shape [
12
,
13
]. While the current volumes of these goods are relatively low, it is thought that as the price and lead times for these items fall their share of the market will increase [
14
].
×
The aim of this review is to summarise the ways 3D scanning technologies have been used in research relating to the design of customised foot orthotics and footwear, and for the anthropometric measurement and assessment of the foot.
Methods
Search strategy
Initial searches for this review were carried out in March/April 2010 in the PubMed, and ScienceDirect databases. Reference lists were examined and experts in the field consulted for additional related articles. Inclusion criteria were that 3D surface scanning of the foot was an integral part of the study protocol, the article was written in English and that it was from a peer reviewed publication or conference proceedings. From the original database searches 141 unique articles were identified, 19 of which met the inclusion criteria (table
1
). An additional 18 articles meeting the inclusion criteria were identified from other sources.
PubMed

Search term

Results

Relevant

Reference numbers

3D foot scan*

3

3

Foot digitizer

13

1

Foot digitiser

2

0

Foot surface scan*

2

1

Foot shape scan*

62

6

Foot shape digiti*

14

2

Foot weight bearing scan

41

0

Foot anthro* scan

0

0

3D foot scan*

20

4

Foot digitizer

5

0

Foot digitiser

0

0

Foot surface scan*

64

5

Foot shape scan*

20

3

Foot shape digiti*

9

1

Foot weight bearing scan

5

0

Foot anthro* scan

7

2
Results
Conclusion and future recommendations
There are a number of current and potential applications for 3D scanners in commercial, clinical and research areas related to the human foot. While there may be improvements that could be made with regards to software designed to automatically take measurements from foot scans, it has been shown that the 3D scans produced by these systems are accurate representations of the foot and that the measurements taken from them are in general comparable to those that would be taken manually. The foot scanner's role in orthosis and customised shoe design and manufacture has been established, where it provides time and cost advantages over traditional casting techniques in return for a greater initial outlay. Initial research suggests that foot orthotics designed from 3D scans of the foot are at least comparable with those made through traditional methods, although further research is required to confirm this.
The utility of scanning systems for clinical and research purposes has been successfully demonstrated, particularly for anthropometric measurement. 3D scanners allow large numbers of subjects to be scanned quickly and easily, with the data available for analysis at a convenient time for the researcher. There would appear to be scope for the expansion of scanner-based research into the investigation of a range of foot conditions, for example those that require the monitoring of the progression of a deformity over time. This approach could help to reduce radiation exposure to the patient from x-rays.
The use of 3D scanning technologies to gain a better understanding of the changes in the shape of the foot under different loading conditions that relate to the conditions it will be under during normal use - walking, going up stairs for example - has been investigated and could be an application relevant for the design of footwear and orthotic devices. For example, the measurement of the change in arch height under different loading can be used to inform the design of the orthotic, and while this can currently be achieved using kinematic analysis of motion capture data from gait labs, the majority of podiatrists and other clinicians who prescribe orthoses do not have these facilities. A small and reasonably priced scanning unit combined with software that can quickly analyse the changes and provide advice for the prescription could be beneficial in this situation. Producing actual dynamic 3D scans of the foot during gait has been achieved, however the quality of these scans and complexity of the equipment setup required to make them means that this option is several years from being commercially available at a clinical level.
Studies have demonstrated some variation in the results obtained from 3D scans using different techniques. Ideally, to maximise time and cost savings the scan should be taken directly of the foot to remove the need for casting. In order to make it a standard component of an assessment for a foot orthotic or customised shoe it is essential that a standardised protocol is developed describing the preparation of the foot (for example cleaning, elevating beforehand), processing of the scan data, and, if required, points where measurements should be taken from. ISO 7250 states that measurements of foot length and width should be taken with the subject in a standing position, 50% of their weight on each foot. However it is not clear from the current evidence bases what is the best level of weight bearing that will give the best quality shoes or orthotics. Current standards are also limited to linear measurements of the foot, and it is suggested that these should be expanded to include relevant girth measurements so that these can be included in anthropometric databases. Identifying bony landmarks on the foot using markers that show up on the 3D scan appears to be the most reliable method of obtaining accurate girth measurements.
Bringing researchers in the field, scanning equipment manufacturers, orthotic and footwear companies, end users and other stakeholders together to further explore these issues may result in cross disciplinary activity needed to resolve current needs and issues.
Acknowledgements
This review was funded through the European Commission Framework Seven Program (grant number NMP2-SE-2009-228893) as part of the A-Footprint project
http://​www.​afootprint.​eu
.
This article is published under license to BioMed Central Ltd. This is an Open Access article distributed under the terms of the Creative Commons Attribution License (
http://​creativecommons.​org/​licenses/​by/​2.​0
), which permits unrestricted use, distribution, and reproduction in any medium, provided the original work is properly cited.
Competing interests
The authors declare that they have no competing interests.
Authors' contributions
ST and JW conceived the initial idea for the review. ST carried out the initial literature searches. Both authors drafted and prepared the manuscript and approved the final manuscript.