01-10-2012 | Original Paper | Uitgave 10/2012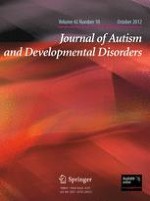 The Study to Explore Early Development (SEED): A Multisite Epidemiologic Study of Autism by the Centers for Autism and Developmental Disabilities Research and Epidemiology (CADDRE) Network
Tijdschrift:
Auteurs:

Diana E. Schendel, Carolyn DiGuiseppi, Lisa A. Croen, M. Daniele Fallin, Philip L. Reed, Laura A. Schieve, Lisa D. Wiggins, Julie Daniels, Judith Grether, Susan E. Levy, Lisa Miller, Craig Newschaffer, Jennifer Pinto-Martin, Cordelia Robinson, Gayle C. Windham, Aimee Alexander, Arthur S. Aylsworth, Pilar Bernal, Joseph D. Bonner, Lisa Blaskey, Chyrise Bradley, Jack Collins, Casara J. Ferretti, Homayoon Farzadegan, Ellen Giarelli, Marques Harvey, Susan Hepburn, Matthew Herr, Kristina Kaparich, Rebecca Landa, Li-Ching Lee, Brooke Levenseller, Stacey Meyerer, Mohammad H. Rahbar, Andria Ratchford, Ann Reynolds, Steven Rosenberg, Julie Rusyniak, Stuart K. Shapira, Karen Smith, Margaret Souders, Patrick Aaron Thompson, Lisa Young, Marshalyn Yeargin-Allsopp
Belangrijke opmerkingen
Disclaimer
: The findings and conclusions in this report are those of the authors and do not necessarily represent the official position of the Centers for Disease Control and Prevention.
Abstract
The Study to Explore Early Development (SEED), a multisite investigation addressing knowledge gaps in autism phenotype and etiology, aims to: (1) characterize the autism behavioral phenotype and associated developmental, medical, and behavioral conditions and (2) investigate genetic and environmental risks with emphasis on immunologic, hormonal, gastrointestinal, and sociodemographic characteristics. SEED uses a case–control design with population-based ascertainment of children aged 2–5 years with an autism spectrum disorder (ASD) and children in two control groups—one from the general population and one with non-ASD developmental problems. Data from parent-completed questionnaires, interviews, clinical evaluations, biospecimen sampling, and medical record abstraction focus on the prenatal and early postnatal periods. SEED is a valuable resource for testing hypotheses regarding ASD characteristics and causes.