23-08-2016 | Uitgave 4/2016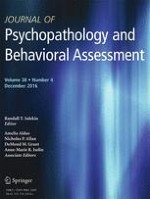 The Social Anxiety Questionnaire for Children: Cross-Cultural Assessment with a New Self-Report Measure
Auteurs:

Vicente E. Caballo, Isabel C. Salazar, Benito Arias, Marta Calderero, María J. Irurtia, Thomas H. Ollendick, CISO-A Research Team
Belangrijke opmerkingen
We gratefully appreciate the collaboration of all those participating in the studies from the various countries.
The
CISO-A Research Team
, co-author of this article, comprises the following researchers:
Argentina
: P. Colussa;
Bolivia
: C. Flores;
Brasil
: L. Brandani, N. Chiapetti, K. Fernandes, L. Lourenço, C. Rocha, L. Senra;
Chile
: S. Chesta, N. López, C. Vásquez, A. Veliz;
Colombia
: L. Aldaz, P. Amorocho, L. Aristizabal, A. Benavides, S. Betancourt, L. Buitrago, S. Cárdenas, F. Coconubo, Y. Cuspoca, P. Díaz, C. Echeverry, R. Escobar, L. Estupiñán, J. Forero, J. González, R. Higuera, D. Jurado, G. Martínez, M. Martínez, Z. Montenegro, M. Ortega, A. Ospina, M. Pérez, M. Perilla, B. Pinto, I. Puerta, H. Quintero, A. Rivera, D. Rodao, L. Rojas, Y. Romero, L. Ruiz, L. Santamaría, R. Santander, J. Taborda;
Costa Rica
: V. Gómez, J. Vindas;
Ecuador
: L. Ortega;
El Salvador
: A. Zúniga;
España
: R. Andreu, B. Bueno, V. de Haro;
Honduras
: R. Ardón;
México
: B. Barcelata, M. Bonilla, J. Caballero, D. Castillo, S. Estrada-Martínez, M. Freyre, J. Garay, L. Hernández, E. Lara, A. Lechuga, G. Leija, J. Lira, E. Maldona, G. Martínez, R. Martínez, S. Meave, A. Mendoza, A. Moysén, A. Porras, A. Rentería, B. Rossano, G. Ruiz, A. San Juan, M. Serrano, J. Servin, M. Silva, I. Stange, M. Villarruel, J. Virseda, B. Zalazar, M. Zarazua;
Perú
: A. Barreda, N. Beltrán, M. Calderón, Y. Candelario, K. Castillo, J. Cueva, M. Dorival, M. Huaynates, J. Maguiña, C. Merino, C. Segura, G. Tiburcio, A. Valdivia, J. Vallejos;
Venezuela
: C. Piña.
The first author of the manuscript is the Director of the research team and the person responsible for the CISO-A Research Team; he also holds all rights for this team.
Abstract
This study describes a series of exploratory and confirmatory factor analyses that were conducted with the 44-item Social Anxiety Questionnaire for Children- 4th version (SAQ-CIV) to identify a reduced set of items that might be used to construct a new abbreviated instrument for measuring social anxiety in children and adolescents. The fourth version of the Social Anxiety Questionnaire for Children (SAQ-CIV) was administered to 12,801 non-clinical participants (ages 9 to 15 years) from 12 Latin American countries and Spain. Exploratory and confirmatory factor analysis supported a 6-factor structure of social anxiety in children, replicating a similar structure to that of adults (Caballo et al. in
Behavioral Psychology/Psicología Conductual
,
18
(1), 5–34,
2010
; Caballo et al. in
Behavior Therapy
,
43
(2), 313–328,
2012
): 1) Interactions with the opposite sex, 2) Criticism and embarrassment, 3) Speaking in public/Talking to teachers, 4) Assertive expression of annoyance and disgust, 5) Performing in public, and 6) Interactions with strangers. Each of the factors contains 4 items, yielding an abbreviated 24-item instrument, the Social Anxiety Questionnaire for Children (SAQ-C). The present results suggest this is a reliable, valid, and culturally sensitive instrument to assess social anxiety in youth.