11-05-2020 | Original Article | Uitgave 3/2020 Open Access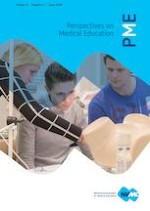 The sensemaking narratives of scientists working in health professions education scholarship units: The Canadian experience
Tijdschrift:
Auteurs:

Brittany Etmanski, Stanley J. Hamstra, Lara Varpio
Belangrijke opmerkingen
Electronic supplementary material
Name of the department the work is attributed to:
Uniformed Services University of the Health Sciences
Disclaimer
The views expressed herein are those of the authors and do not necessarily reflect those of the Uniformed Services University of the Health Sciences, the United States Department of Defense or other federal agencies.
Introduction
Sensemaking: a microfoundation of institutional logics
Scholars investigating the microfoundations of institutional logics study how individuals locate themselves in logics, construct them, maintain them, transform them, and/or eschew them [
14
,
15
]. One element of these microfoundations is called sensemaking—i.e., the process through which individuals interpret situations, generate understandings of situations, and craft justifications for future actions [
16
]. Individuals engage in and achieve sensemaking through narratives. These narratives manifest specific institutional logics and give evidence of how the individual is accepting, modifying, or rejecting them. In other words, institutional logics—and by extension, the HPESUs themselves—are activated in, constructed by, and transformed through sensemaking narratives [
17
].
In this study, we examine health professions education scholarship scientists' narratives to explore the sensemaking activities that are realized therein. We focus on how specific institutional logics are promoted, transformed, and/or denied in these narratives.
Methods
The research ethics board at the Ottawa Hospital approved this study (file number: 20180277-01H). We confirm that all procedures performed in studies involving human participants were in accordance with the ethical standards of the institutional and/or national research committee and with the 1964 Helsinki Declaration and its later amendments or comparable ethical standards. There were no potential harms to participants. All participants provided informed consent and anonymity was guaranteed.
Results
Participant narratives accentuated the logic of academic research, service, and teaching. They narrated career development and success in terms of meeting requirements to engage in research. They also expressed the need to modify conceptualizations of service, and to transform perceptions of teaching. Participants described a strategy for meeting these competing elements of career of success while simultaneously satisfying the institution's expectations for promotion.
Supporting institutional success via research
All participants, those working in both large and small HPESUs, emphasized their career success in terms of a research-intensive focus. Participants explained that research success was heavily socialized in the traditions and culture of academia. The importance of research-intensive pursuits was a narrative that cut across decades of PhD-trained health professions education research scientists (see Tab.
1
for illustrative data excerpts).
Table 1
Data excerpts illustrating results
Supporting institutional success via research

"I think that there's a fundamental academic currency of grantsmanship, publication, presentation, that defines, for me, success. And those are some of the traditional markers that any faculty member, regardless of where they would be situated would be looking at." (P21: >10 yrs)

"To be successful you have to pull in grants, you have to publish papers. If you're junior you should be publishing first author papers; if you're senior you should have a stable full of people that you are publishing senior author papers with. [pause] It's sort of the traditional markers of academic success." (P13: 6–10 yrs)

"The typical model for measuring success has been amount of grant dollars you get and then the actual value of those grants; your number of publications, the impact factor of the journals for which you're publishing, the quantity of your publications, particularly those in which you're indicated as the senior author or principal author." (P9: ≤5 years)

Modifying conceptualizations of service

"I think we are absolutely essential to the future of medical school. We are committed to education excellence. The only way that we achieve that is though educational scholarship and therefore, although we may be small, we are absolutely critical to the future success and well-being of all our educational programs and we really should be given more profile and more support in profiling that role. It's not just we are yet another branch of scholarship. We play a rather different and more central role to the functioning of the organization …. It [the scholarly services offered by the HPESU] needs some [pause] legitimacy. It needs some funding. It needs to be positioned as a critical and essential part of how the medical school goes about doing what it's doing and it needs to be connected therefore to the mission but also the quality assurance, the quality improvement of its programs." (P17: >10 yrs)

"We all do a lot of work behind the scenes, whether it's contributing to how things work in the faculty or committees, or whatever, I don't think any of that counts for any kind of academic success for anybody …. It's all on our CVs but no one cares. So those are things that we do that are part of functioning [pause] If we don't do them, you know, we lose the support of our academic institutions, but at the same time it's like housework. You gotta do it but it doesn't count." (P13:6–10 yrs)

"I don't think any of it detracts. I think we have to remember that education informs research, which informs education, which [pause] I mean it's all linked. I think education research and practice need to be linked and informed by one another and I think if I'm called on to do the odd faculty development session or to teach a course in a master's program, I think that's perfectly fine." (P14: ≤5 years)

Transforming perceptions of teaching

"I think that for me, it all comes down to being able to be a valued contributor to the fundamental success that we set out in training physicians and other health professionals in [name of local institution]. And so that's a big kind of generic statement, but you know, if I look at a specific example in curriculum renewal, being able to design and develop this new curriculum, I see a personal measure of my success as, you know, being a really strong and productive contributor to that mission, to really improve the curriculum." (P21: >10 yrs)

"I think that that's [research productivity is] really important but, you know, I think from my standpoint, the actual applied part is important. Putting the theory into practice and having quality programs that are informed by research and by evaluation data." (P26:6–10 yrs)

"I'm increasing capacity for the department to be more scholarly, and that's cutting across from the individual level all the way to the programmatic and departmental level …. So that teaching is much more anchored in evidence based, that it informs other kind of teaching that's building blocked towards programming, so scholarly teaching. Capacity to research more effectively the questions and concerns that educators want to address in their own context. So increase skills in faculty and residents." (P2: ≤5 years)
When articulating the essential status accorded to research-related activities to these scientists' careers, respondents stressed the need to disseminate peer-reviewed publications. This participant's comment exemplifies the emphasis placed on publication:
I would say that number one, probably—well, I guess number one, being published in medical education, you know, prominent medical education journals in Canada and elsewhere. (P16)
Peer-reviewed, evidence-based research manuscripts were described as tangible products of their research efforts that demonstrated the ability to be an effective faculty member. As one respondent's off-hand comment illustrates, a successful career is equivalent to a recognized program of research—an outcome that is "
obviously
" (P25) secured through publications:
I think success for a PhD is developing a program of research, meaning that other people at my institution and around the country, around the world, kind of know what it is that I study so they know my research area. They know my work. It would have to be obviously based on receiving a large number of publications. (P25)
Respondents explained that they worked in HPESUs to engage in research. As one participant explained, career success for scientists working in these units was being allowed to run investigations with
"reckless engagement and passion" (P17)
. Research was the core element to participants' conceptualizations of success.
Modifying conceptualizations of service
While participants emphasized engagement in research as essential to career success, respondents cautioned that exclusively focusing on traditional metrics of research success was too narrow an application of the concepts of
research
and
scholarship
. Participant narratives highlighted that their personal definitions of career success encompassed activities that advanced the field of health professions education itself. As this participant explains, a broader definition, one that acknowledged how individuals developed and bolstered a "
culture of scholarship
" (P7), was emblematic of success:
One of the things that I see myself as pleased to be able to point to is the extent to which I have participated in the larger endeavor of trying to raise the standard of scholarship that has gone on in the context of the larger field. That doesn't necessarily manifest itself as individual papers or individual grants that I've received, rather just the general increase in the quality of the work that's being done … I don't think that we have good measures of those kinds of things, and that certainly doesn't show up on my CV anywhere, but that is the stuff that gets me very excited. (P7)
Developing a culture of scholarship was realized through engagement in scholarly activities outside of traditional research efforts, often specifically framing service-related pursuits as scholarly endeavors. Participants at every career stage echoed the importance of service work, lamenting that the larger institution did not value their service efforts. Respondents explained that their service offerings were vital to the success of their local institutions and were unique contributions that they offered to the institution (see Tab.
1
for illustrative data excerpts).
If research work was styled as the glamorous side of these scientists' academic careers, service work was fashioned as the necessary
"housework" (P13).
Engaging in program evaluations, leading faculty development sessions, supporting learner assessments, sitting on committees, creating materials in support of accreditation: while these are not prestigious pursuits, the participants recognized their importance and were committed to engaging in this work. However, respondents warned that engaging in too much service work would be detrimental to their careers. As this participant explained, service activities could take too much time away from research:
I spend an awful lot of time doing administrative types of things. Committee work and that kind of thing … It really is difficult to think and write about medical education and to theorize about medical education when you're doing it between meetings. You know, it's [research is] not the kind of thing that you can pop in and out of, at least for me. I need concentrated time in order to sit, to think and write and to conduct my research and synthesize that information, that kind of thing. Like I say, it's hard to do that when you have a half an hour between committees. (P18)
Protecting early-career scientists from becoming too involved in service activities was noted as an important function of the unit's leadership, lest those junior faculty members not be able to meet the research expectations required for academic promotion:
My time is protected. There are a lot of committees and a lot of administrative work, or administrative responsibilities out there in the department, and I know in the past people like myself have been asked to engage in a lot of that work. But thus far I've been protected by my department to really give me the time to concentrate on grant writing and writing up papers and getting the work done by which I will be ultimately evaluated. (P9)
Respondent narrations highlighted the tension between service and research. Service work was described as time consuming, diverting time away from the research responsibilities that participants enjoyed and that were accorded greater institutional value. However, participants also narrated service work as a necessary component of keeping the institution running, and so should also be accorded institutional value. When asked to describe what obstructed their overall career success across all these commitments, this respondent's ambiguous and self-contradicting observation articulated the service-research tension expressed by many participants:
The service load I carry, the administrative service load I carry ….meetings that aren't so focused on medical education that may be focused more on finance, student bursaries, student scholarships, all very important but they certainly make it difficult to do the—to have the time for education scholarship. Having time that's not eroded by so many other things, so many administrative things. I think that's right. On the other hand, one's research is very enriched by the work around [the institution] and what else is going on, right? I don't think [pause] you know [pause] medical education scholarship does not operate in a vacuum and you get your ideas and stimuli from the people with whom you work in whatever contexts. (P15)
Participants struggled to strike a balance where they avoided engagement in so much service work that their research faltered, while also engaging in enough service work to make their contributions relevant to the institution. When narrating that goal, respondents articulated their programs of research as
applied
research and so relevant—even integral—to their service commitments:
For us, it's also an applied sense, because I'm not just doing puritan research for the sake of research. There is a lot of connection to program delivery and program evaluation. (P26)
As one participant explained, the ideal situation was to harness service work to meet research goals:
I think what's most important is that there is a supportive environment within the program that allows me to conduct my research as well as integrating my research with the program needs so that I'm able to basically meet a couple of goals, all of them, all in the same stroke. (P31)
Transforming perceptions of teaching
Respondents also described the importance of teaching to their career success, even if the institution did not accord similar value to those activities. As one participant observed, despite the fact that HPESUs are located in institutions dedicated to the education of clinicians, most institutions did not value teaching:
I also value the being a bit of an advocate for the importance of understanding education. One of the things, when we were talking about what the goals and missions were for the medical program, is to really get people to understand that

we are in the business of education, not in the business of medicine

[participant's emphasis]. And that's probably not always a well-accepted idea, but part of that is really to change the ethos to the fact that the Faculty of Medicine educates, and then those that they educate go out and do the business of medicine. (P21)
Participants narrated valuing many teaching-related endeavors including: mentoring residents and clinician educators to engage in health professions education research; informing curricula with findings from educational research and theory; and supporting the institution's teaching faculty through faculty development. Participants' teaching work was not taking place in traditional health professions education space—e.g., not often in a classroom setting or at the bedside; instead, their teaching contributions were contributing to the institution's culture of scholarship. For participants, this teaching work was essential to the institution's success (see Tab.
1
for illustrative data excerpts).
Participants described engaging in teaching-the-teacher (i.e., supporting clinician educators who teach medical learners). Working with clinician educators to become more effective teachers or successful health professions education researchers generated powerful collaborations. However, respondents often avoided labeling their collaborators as
learners
. This was particularly evident in the comments from early-career scientists. They tended to describe being partners in these relationships, placing
"emphasis on collaboration" (P9)
and not on the mentoring work
:
When I say teaching, faculty development, etc., it means working with colleagues to help their research program, which also could include me as a collaborator. (P2)
But this was a risky way of describing teaching efforts. Participants recognized that framing teaching activities as collaborations could threaten their academic promotion:
Yeah, it's [teaching is] not valued [laughs]. I mean I've actually been asked whether I wanted to be a faculty service officer instead of a tenure track faculty member on several occasions. [pause] The work that I do collaboratively with the clinical educators is not always publishable. So even though I'm guiding them or doing peer mentorship, they're seeing that as a service. (P19)
Strategizing to realize success
Participants were aware that embracing research
and
service
and
teaching as important elements of career success required a strategic approach. As this participant explained, the scientists' careers involved managing competing priorities:
In the field that I've chosen [health professions education] we are pulled in multiple directions and have our own research programs as well as doing some consultation and supervision and serving on various administrative committees. So it's mostly a matter of figuring out how to manage one's own time and how to prioritize and ensure that those priorities are maintained. (P1)
Participants described having developed strategies to meet these multiple priorities. The most common was to frame service and teaching activities as contributing to research aims. For example, respondents described: turning the service of helping to deliver a specific educational program into program evaluation research, and leveraging the teaching of clinician educators to be rigorous methodologists into a research collaboration.
But aligning service and teaching responsibilities with research required a key foundational premise to be in place: academic freedom. The scientists agreed that a core contributor to their career success was being empowered to make their own choices in their academic careers:
Academic freedom, it's the liberty, the freedom to do, to engage in any kind of question I want to engage in. (P3)
Academic freedom required the trust and support of the leadership of the HPESU and the institution.
Discussion
Health professions education scholarship research scientists' descriptions of career success reflected how aspects of an institutional logic underpinning HPESUs—the logic of research, service and teaching—were supported and challenged. Respondents supported the logic of research; they positioned themselves as researchers. Their narratives about reconceptualising service activities and transforming perceptions of teaching reveal how their sensemaking aligned these activities to their research focus and supported the development of a culture of scholarship. By justifying service and teaching work as springboards for research, participants framed these activities as interconnected elements that could help propel their research. The leadership of the unit and/or the institution could facilitate those interconnections when they protected the researchers' academic freedom.
Acknowledgements
We would like to thank Dr Erin Bidlake for her tireless efforts as a research assistant.
Conflict of interest
B. Etmanski, S.J. Hamstra and L. Varpio declare that they have no competing interests.
Open Access
This article is licensed under a Creative Commons Attribution 4.0 International License, which permits use, sharing, adaptation, distribution and reproduction in any medium or format, as long as you give appropriate credit to the original author(s) and the source, provide a link to the Creative Commons licence, and indicate if changes were made. The images or other third party material in this article are included in the article's Creative Commons licence, unless indicated otherwise in a credit line to the material. If material is not included in the article's Creative Commons licence and your intended use is not permitted by statutory regulation or exceeds the permitted use, you will need to obtain permission directly from the copyright holder. To view a copy of this licence, visit
http://​creativecommons.​org/​licenses/​by/​4.​0/​
.
Caption Electronic Supplementary Material
Disclaimer
The views expressed herein are those of the authors and do not necessarily reflect those of the Uniformed Services University of the Health Sciences, the United States Department of Defense or other federal agencies.