25-02-2019 | Empirical Research | Uitgave 6/2019 Open Access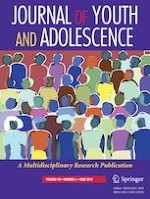 The Role of Stressful Parenting and Mineralocorticoid Receptor Haplotypes on Social Development During Adolescence and Young Adulthood
Tijdschrift:
Auteurs:

H. M. Endedijk, S. A. Nelemans, R. R. Schür, M. P. Boks, P. van Lier, W. Meeus, C. H. Vinkers, R. A. Sarabdjitsingh, S. Branje
Belangrijke opmerkingen
Publisher's note:
Springer Nature remains neutral with regard to jurisdictional claims in published maps and institutional affiliations.
Introduction
Current Study
Indicators of social behavior were operationalized by the concepts prosocial behavior, perspective taking and empathic concern. The development of prosocial behavior, empathic concern and perspective taking was examined, in order to study the interaction between stressful parenting and MR on the social development. The aim was to extend the evidence on the role of the MR in indicators of social behavior based on pharmacological modulation by investigating the effects of common functional genetic variation in the MR gene on social development. Stress models suggest that early life stress, like stressful parenting, results in decreased levels of social behaviors (Sandi and Haller
2015
). Therefore, the expectation was that stressful parenting, as indicated by high levels of parental psychological control or childhood trauma, would be negatively associated with prosocial behavior, empathic concern and perspective taking during adolescence and young adulthood. Moreover, given that the MR CA haplotype supports stress regulation (van Leeuwen et al.
2011
), the hypothesis was that adolescents with more MR CA haplotypes would show higher levels of prosocial behavior, empathic concern and perspective taking during adolescence and young adulthood as compared to individuals with fewer CA haplotypes, particularly in adolescents that experienced stressful parenting. Given the female-specific MR CA haplotype effects in experimental studies (ter Heegde et al.
2015
), the positive effect of MR CA haplotype was expected to be stronger in females than males.
Methods
Participants
Participants were 343 adolescents (55.7% boys) from the center and west of The Netherlands with a mean age of 13 years (SD = .4) at Wave 1. They all attended the first grade of secondary school at the first wave of data collection in 2006. The adolescents were followed longitudinally until age 24 as part of the longitudinal community study RADAR-Young (Research on Adolescent Development And Relationships). Of the 522 adolescents participating in this study, 417 (80%) volunteered to take part in an intensive lab study during which saliva was collected for genotyping. An additional 74 adolescents were removed due to genotyping exclusion criteria, most of them (54 adolescents) as they were from another ethnic background, according to their genes. Therefore, 343 adolescents were successfully genotyped around age 17 of whom 7.1% were from low SES. All participants were Dutch, except from two coming originally from England. Adolescents from the genetic sample did not differ from adolescents from the total sample on sex, age, parental psychological control, childhood trauma, prosocial behavior, empathic concern, or perspective taking (all
p
s < .05). Attrition rates were low, with 72.3% of the adolescents participating at all waves. Little's (
1988
) Missing Completely at Random test showed a nonsignificant χ
2
(χ
2
/df) of 1.04, indicating no systematic differences between participants with complete data and participants with partially missing data. For the growth curve analysis M
plus
version 8 with Full Information Maximum Likelihood was used to handle missing data (Muthén and Muthén
2017
).
Procedure
Adolescents were visited annually until the age of 18 (6 waves), and biannually for the final 3 waves. During the home visits, adolescents completed questionnaires. For the 9 th assessment, the participants completed the questionnaires digitally. Around the 5 th wave, DNA was collected by taking saliva samples during a lab assessment. Participants gave active informed consent and for each wave received a small fee.
Measures
Analyses
To predict the development of prosocial behavior, empathic concern and perspective taking over the course of adolescence and young adulthood, growth curve analyses were conducted in Mplus 8 (Muthén and Muthén
2017
). An equidistant time difference of 1 was used between waves 1 until 6, and an equidistant time difference of 2 was used between waves 6 until 9, corresponding to the annual measurements until age 18 and the biannual measurements after age 18. This resulted in the following growth factors: 0 for age 13, 1 for age 14, 2 for age 15, 3 for age 16, 4 for age 17, 5 for age 18, 7 for age 20, 9 for age 22, and 11 for age 24. The growth curves were estimated in three steps. During the first step, the growth curve was estimated and the model fit of a growth curve with two latent factors (intercept and slope), three latent factors (intercept, slope, and quadratic slope), and four latent factors (intercept, slope, quadratic slope, and cubic slope) were compared using a Satorra-Bentler scaled Chi Square difference test (Satorra and Bentler
2010
). To enhance the interpretation of the effect of the predictor on the developmental trajectory, the best fitting growth curves were transformed into piecewise models with different slopes for each part of development (Flora
2008
), as the slopes might be differently related to predictors (Diallo and Morin
2015
). Knots or transition points between two slopes were determined at the point where the curves bended, but with at least three time points for each slope as this is important for power and convergence (Diallo and Morin
2015
). The fit of these models was evaluated based on the following criteria: acceptable fit when CFI > .90, RMSEA and SRMR < .10, and good fit when CFI > .95, RMSEA < .06 and SRMR < .08 (Kline
2005
).
In the second step the main effect of sex was added as predictor of these latent growth factors to estimate sex differences in social development. In the third step, besides sex, stress and MR (0, 1, or 2 CA haplotypes, for an additive genetic model) and all 2-way and 3-way interaction terms were included as independent variables to investigate the direct and moderating role of MR. Six different growth curve models were estimated in which all growth factors (intercept and piecewise slopes) were predicted at the same time, with either parental psychological control or childhood trauma as stress variable and separate models for each indicator of social behavior: prosocial behavior, empathic concern, and perspective taking.
Results
Discussion
Conclusion
Adolescence is characterized by rapid social development (Tousignant et al.
2017
), but is also the period in which long-lasting effects of stress become evident (Lupien et al.
2009
), possibly affecting this social development negatively (Sandi and Haller
2015
). One of the biological factors that could play a role in this process is the mineralocorticoid receptor (MR). Functional gene variation, more specifically the MR CA haplotype, is associated with higher levels of MR expression, which supports stress regulation and could therefore be advantageous for social behavior (van Leeuwen et al.
2011
). Experimental studies have shown that pharmacological stimulation of MR resulted in enhanced socio-cognitive behaviors (Wingenfeld et al.
2014
). Unclear is how common functional variation in the MR gene affects social development during adolescence in a community sample. The current study showed that MR CA haplotype moderates the effects of stressful parenting and sex on social development (i.e., prosocial behavior, empathic concern and perspective taking development) from adolescence to young adulthood. Common functional variation in the MR gene resulted in better social development for adolescent that experienced high levels of stressful parenting. These findings are in line with earlier adult studies and studies in clinical samples, making the earlier MR findings more generalizable to the general population. Moreover, the current study showed that the MR effects were evident from the beginning of adolescence, suggesting that already in childhood MR is probably important for the consequences of stress on social development. MR gene variation seems to contribute partially to adolescents' resiliency to the consequences of stressful parenting, and explains why some adolescents develop socially well despite a stressful childhood, while others show profound social problems and need specialized care.
Authors' Contributions
H.E. performed the analysis with help of S.N., and drafted the manuscript. P.v.L., W.M., A.S., S.B. designed the study and coordinated the data collection. M.B., R.S. and C.V. were in charge of the genotyping and helped to draft the genetic parts of the manuscript. All authors read and approved the final manuscript.
Funding
Data of the RADAR study were used. RADAR has been financially supported by main grants from the Netherlands Organisation for Scientific Research (GB-MAGW 480-03-005, GB-MAGW 480-08-006, GB-MAGW 481-08-014), from a grant to the Consortium Individual Development (Grant 024.001.003) from the Netherlands Organization for Scientific Research, from grants by Stichting Achmea Slachtoffer en Samenleving (SASS), and various other grants from the Netherlands Organisation for Scientific Research such as
NWO grant
863-13-021, the VU University Amsterdam and Utrecht University.
Data Sharing and Declaration
Data from wave 1 to 7 analyzed during the current study are available in the DANS repository (
https://​doi.​org/​10.​17026/​dans-zrb-v5wp
). Data from wave 8 and 9 are not publicly available yet but are available from the corresponding author on reasonable request.
Compliance with Ethical Standards
Conflict of Interest
The authors declare that they have no conflict of interest.
Ethical Approval
All procedures performed in studies involving human participants were in accordance with the ethical standards of the institutional and/or national research committee and with the 1964 Helsinki declaration and its later amendments or comparable ethical standards. The board of the local research institute, the Medical Ethical Committee of the Utrecht Medical Centre and the VU Medical Centre, The Netherlands, approved this study.
Informed Consent
Informed consent was obtained from all individual participants included in the study, for each wave separately after explaining their role and their rights in the study and before starting data collection.
Open Access
This article is distributed under the terms of the Creative Commons Attribution 4.0 International License (
http://​creativecommons.​org/​licenses/​by/​4.​0/​
), which permits use, duplication, adaptation, distribution, and reproduction in any medium or format, as long as you give appropriate credit to the original author(s) and the source, provide a link to the Creative Commons license, and indicate if changes were made.
Publisher's note:
Springer Nature remains neutral with regard to jurisdictional claims in published maps and institutional affiliations.