01-11-2013 | Original Article – E-Learning | Uitgave 11/2013 Open Access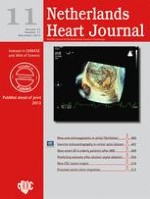 The role of exercise echocardiography in the management of mitral valve disease
Tijdschrift:
Auteurs:

R. Jansen, P. A. M. Kracht, M. J. Cramer, W. J. Tietge, L. A. van Herwerden, R. J. M. Klautz, J. Kluin, S. A. J. Chamuleau
Belangrijke opmerkingen
The questions can be answered after the article has been published in print. You have to log in to:
www.​cvoi.​nl
.
Abstract
Purpose
Exercise echocardiography can assess the dynamic component of mitral valve (MV) disease and may therefore be helpful for the clinical decision-making by the heart team. The purpose of this study is to determine the role of exercise echocardiography in the management of disproportionately symptomatic or otherwise atypical patients with mitral regurgitation (MR) and stenosis (MS) in clinical practice.
Methods
Data of 14 MR and 14 MS patients, including echocardiograms at rest, were presented retrospectively to an experienced heart team to determine treatment strategy. Subsequently, exercise echo data were provided whereupon once again the treatment strategy was determined. This resulted in: value of exercise echo by means of 1) alteration or 2) confirmation of treatment strategy or 3) no additional value.
Results
During exercise the echocardiographic severity of MV disease increased in 9 (64 %) MR and 8 (57 %) MS patients. Based upon alteration or confirmation of the treatment strategy, the value of exercise echocardiography in the management of MR and MS was 86 % and 57 %, respectively.
Conclusion
This study showed that physical exercise echo can have an important role in the clinical decision-making of challenging patients with MV disease. Exercise echocardiography had additional value to the treatment strategy in 71 % of these patients.